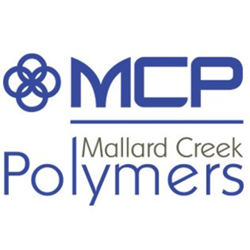 LAS VEGAS (PRWEB) October 16, 2019
In early 2019, Mallard Creek Polymers, Inc. (MCP) launched products like Ecronova 6608 and Ecronova 6630 using ambient cure crosslinking technology from the company's 2018 acquisition of Ecronova Polymers Intellectual Property portfolio. At the same time, MCP was building a new company in Europe, MCP Europe GmbH, that has been reintroducing Ecronova products like RA111, RA576H, KDA790, etc. to the architectural coatings market. Today, the company is announcing further work to integrate technology to design APEO-free binders and resins for many Construction markets in Europe and the America's. By combining the acquired technology, a deep understanding of coatings and construction markets, and a rich product portfolio and chemistry options, MCP can react quickly to tailor products to meet the industry's specific performance demands. The company is introducing some of those products to the market at the Western Coatings Symposium.
Rovene®4044 (APEO free Rovene 5044) is a low glass transition temperature (Tg) styrene butadiene latex for construction adhesive applications. Rovene 4043 is a new APEO-free, non-carboxylated styrene-butadiene emulsion polymer that has been designed for use in polymer modified concrete and mortars. Tylac 4093 (APEO free Tylac 4193) is in the final phases of development. This product is designed for 2K waterproofing applications where workability of the mix and flexibility of the membrane are key requirements. MCP will be actively working companies on customized products for their unique applications. Projects to create APEO-free versions of Tylac® 4190 and 4191 will be initiated over the next few months.
These products are so new, that they are not captured in the Coatings Selection Guide or Construction Selection Guides. The company will continue to build new products for markets and customers. To discuss options and project proposals to product customization, R&D and sales personnel are available for meetings at the Western Coatings Symposium from October 20-23 at Booth #426. For consultation in any potential applications visit MCP's website or contact a sales/marketing professional at 1-877-240-0171.
About Mallard Creek Polymers, Inc (MCP):
MCP is dedicated to meeting customer needs with a growing line of synthetic emulsion polymers and unparalleled customer focus. MCP offers a diverse line of water-based emulsions including styrene butadiene, acrylic, styrene acrylic, and other specialty latex products to both domestic and international customers from the MCP facility in Charlotte, North Carolina and from its network of collaborative manufacturing partners. MCP is a privately held specialty chemical company dedicated to innovation, quality, service, and sustainability with products for the adhesives, nonwovens, paint & coatings, graphic arts, printing & packaging, textiles, carpet, sealants, construction, oil services, and paper. For more information, visit the company's website.