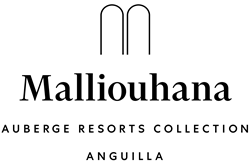 ANGUILLA, B.W.I. (PRWEB) December 14, 2020
Malliouhana, Auberge Resorts Collection, Anguilla's favorite beachside hideaway, will reopen on December 17, 2020 perfectly timed for the winter season with a host of new guest adventures, immersive amenities and culinary delights. The celebrated destination which just went through a multi-million dollar reimagination, reopens to guests who can experience the Art Deco-inspired luxury enclave. In celebration of its reopening, Malliouhana will introduce More Malliouhana, an all-inclusive package that invites travelers to indulge in the best of Anguilla without having to leave the property.
"We look forward to welcoming guests back to our island hermitage this winter on the private shores of exclusive Meads Bay and Turtle Cove," said George Vlachopoulos, general manager, Malliouhana, Auberge Resorts Collection. "Anguilla's calm ocean breeze and Malliouhana's luxurious oceanfront accommodations, unique experiences and extraordinary service will provide travelers with the ideal island experience."
New highlight guest experiences include:
Mixologist in Residence: Renowned mixologist and author Shannon Mustipher, former Beverage Director of Glady's in Brooklyn and the founder of Women Who Tiki, a community for female bartenders, will host a one-month residency at Malliouhana. During her residency, Shannon will oversee all beverage menus on property, offer daily tastings of specially curated, destination-inspired libations including the Parasol (daiquiri) and Kingston Soundsystem (rum punch), tropical cocktail classes and private bookable experiences. Shannon will also lead Spirits of the Sea, intimate tastings featuring a deep dive into various styles and expressions of rum. Each week will juxtapose rums from a particular island or region, through the lens of 3-4 bottles.
Catch N' Cook: Guests will enjoy an afternoon of fishing at sea and experience breathtaking views of the Anguilla's exotic reefs and coves. In the evening, the Malliouhana culinary team will prepare a special seafood dinner using guests' catch of the day in true Fish to Table form.
Lucid Paddle Boarding: Transparent acrylic paddle boards provide unparalleled balance and an incredible view into the crystal clear waters as fish glide through the sea. All ages and abilities can witness a sea turtle up close, or navigate through calm waters in moonlight as the paddle board illuminates the dark, starry sky.
Wellness by the Water: Malliouhana guests can practice yoga and sun salutations the way they're meant to be done - in the open air and enveloped by the fresh morning breeze with the sound of gentle waves lapping just beyond. Bluff Pilates will focus on flexibility and balance while beach volleyball and tennis with a pro will get the heart pumping and body moving. Those looking for a more rigorous workout can opt for the Bluff Bootcamp Classes.
The More Malliouhana all-inclusive package allows guests to experience the best of Anguilla with unlimited on-property experiences and Caribbean seaside adventures. The package also includes nightly luxury accommodation, daily breakfast, lunch, dinner, snacks and non-alcoholic beverages. Starting rates for More Malliouhana begin at $1,599/night.
A legendary destination, Malliouhana recently underwent a multi-million dollar resort-wide enhancement and expansion. Guests will be greeted with stylish new suites and a new dining destination. New accommodations include a two-be edroom beachfront suite on the exclusive Turtle Cove just steps from the private white sandy beach and boasting awe-inspiring views of the crystal clear waters, a lush landscaped portico, garden patio and private plunge pool. All guest rooms feature fresh new furnishings, amenities and artwork. The resort's new open-air restaurant, Celeste, features unique takes on Caribbean-inspired classics such as Grilled Mahi with blackened spice, corn relish and spicy mango coulis; Conch Curry with coconut dumplings, cauliflower and sweet peppers; and Pyrat Rum Baba with papaya ice cream and crystallized lime. Bar Soleil still remains the best place to enjoy the picturesque Anguillan sunset, and now features vaulted ceilings, long Turkish banquettes and candle-lit bird cages illuminating the magical space throughout.
An indulgent hideaway for the international jet set since the 1980s, Malliouhana welcomes those who seek relaxed Caribbean sophistication in an intimate, luxurious setting. From the moment guests enter Malliouhana, a visual connection to the sea is created from the entry through the dramatic doors to the blindingly blue ocean. The color palette of mint, mango, saffron and white found throughout is inspired by Anguilla's sugar-white beaches. Most notably, the iconic two-tiered infinity swimming pools are the focal point of the luxury resort, with private cabanas, yellow ruffled umbrellas and black-and-white striped canopies. Swimming up to the edge of the pool, guests can overlook the pristine crystal-clear Caribbean Sea.
For a detailed description of traveling to Anguilla, please visit gov.ai/tourism. For more information on upgraded safety measures at Malliouhana, please visit aubergeresorts.com/malliouhana.
Starting rates for Malliouhana, Auberge Resorts Collection begin at $999/night.
For more information or to book a stay, call 1-866-282-3743 or visit aubergeresorts.com/malliouhana.
About Malliouhana, Auberge Resorts Collection
A legendary destination on the island of Anguilla, Malliouhana is known for its iconic location high over Meads Bay and Turtle Cove and sweeping 360-degree views of the Caribbean. 63 rooms and suites blend the warmth and gracious hospitality of the Caribbean with stylish spaces that create a sense of togetherness. A toes-in-the-sand restaurant, Leon's at Meads Bay, joins Celeste and Bar Soleil overlooking white-sand beaches, along with the iconic two-tiered infinity swimming pool and the Spa at Malliouhana.
For more information: aubergeresorts.com/malliouhana
Follow Malliouhana on Facebook and Instagram @Malliouhana
About Auberge Resorts Collection
Auberge Resorts Collection is a portfolio of extraordinary hotels, resorts, residences and private clubs. While each property is unique, all share a crafted approach to luxury and bring the soul of the locale to life through captivating design, exceptional cuisine, innovative spas, and gracious yet unobtrusive service. With 19 hotels and resorts across three continents, Auberge invites guests to create unforgettable stories in some of the world's most desirable destinations.
For more information: aubergeresorts.com
Connect with Auberge Resorts Collection on Facebook Twitter and Instagram @AubergeResorts and #AlwaysAuberge
About The Friedkin Group
The Friedkin Group is a privately-held consortium of automotive, hospitality, entertainment, sports and adventure companies. These organizations include: Gulf States Toyota, GSFSGroup, GSM, US AutoLogistics, Ascent Automotive Group, Auberge Resorts Collection, AS Roma, Imperative Entertainment, 30WEST, NEON, Diamond Creek Golf Club, Congaree and Legendary Expeditions. The Friedkin Group is led by Chairman and CEO Dan Friedkin. For more information, visit http://www.friedkin.com.
###