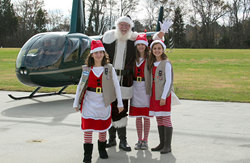 Virginia Beach, VA (PRWEB) November 18, 2016
The annual Hampton Roads holiday event, Planes, Trains & Santa, will be held at the Military Aviation Museum, in association with the Tidewater Division of the National Model Railroad Association (NMRA), Friday, Nov. 25-27. Event hours on Friday and Saturday are from 9 a.m. to 5 p.m., and 9 a.m. to 3 p.m. on Sunday. Grab the family for a weekend of holiday fun—watch Santa fly in for an intimate meet and greet and photo opportunity, explore the elaborate display of model trains, check out the Museum's rare collection of vintage aircraft. Children aged 12 and under receive free admission all weekend! General admission prices apply for all others.
St. Nicholas will be touching down at 11 a.m. all three days, ready to meet everyone. Children should come with Christmas lists in-hand, as after a little one-on-one mingling with the children, he'll be settling into the balcony overlooking the Museum's Army hangar.
Members of the Tidewater Division of the NMRA will be on hand throughout the weekend to showcase their model trains of all shapes and sizes. For the junior train enthusiast, there will be a hands-on track on which they can control a model engine themselves as well as check out a model train built entirely out of LEGOs.
The weekend promises more thrills as well, to include an up-close look at the Museum's exciting collection of operational World War One and World War Two vintage aircraft, a special appearance by fire engines from Independent Fire Company. The Greater Atlantic Rescue Dogs will greet guests as they walk through the doors. The Girl Scouts will also be in attendance, among other organizations.
The U.S. Marine Corps Reserve will be accepting donations for their annual Toys for Tots drive throughout the weekend. Help spread a little cheer this holiday season to youngsters in need by bringing a new, original-packaged toy for donation, or by purchasing one from the Museum's gift shop.
Tickets for the Museum's annual Valentine's Day Hangar Dance, taking place on Saturday, Feb. 11, will be available for purchase during the weekend's festivities, at a discounted price of $40, for guests looking to give them as gifts during the holidays.
For additional information about Planes, Trains & Santa, visit http://www.militaryaviationmuseum.org/Planes_Trains_Santa.html.
About the Museum:
A 501 (c)(3) not-for-profit organization, the Military Aviation Museum is home to one of the world's largest collections of airworthy military aircraft from the first 50-years of flight. Truly a living museum, its aircraft are in restoration at facilities around the world. Besides the main Museum, the Virginia Beach complex features additional exhibition spaces, including a mid-1930s Luftwaffe hangar, originally from Cottbus, Germany, which now serves to house the Museum's collection of WWII-vintage German aircraft. Additional structures include the WWI Hangar, in which reside the Museum's genuine 1918 Curtiss JN-4D Jenny and other aircraft of the period. Visit http://www.militaryaviationmuseum.org for more information or call (757) 721-7767.
# ##