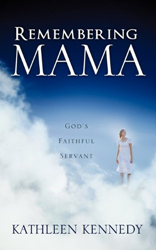 Remembering Mama: God's Faithful Servant chronicles the tribulations and triumphs of one of God's children.
RIALTO, Calif. (PRWEB) June 13, 2020
Kathleen Kennedy's book, Remembering Mama: God's Faithful Servant($14.99, paperback, 9781612155067; $7.49, e-book, 9781612152974), is available for purchase.
Remembering Mama: God's Faithful Servant chronicles the tribulations and triumphs of one of God's children. Mama was raised in a Christian home where the Bible was the centerpiece of every word or deed. She had to follow God's Word; no deviation was allowed. The Bible was and still is her path to Heaven.
Mama can hold her own when it comes to reading and understanding the Word of God. She raised her children to believe in God, to live each day to the fullest, and to praise and worship God. She reads her Bible for several hours a day and her life is governed by God's commandments: Love the Lord thy God with all thy heart, and with all thy soul, and with all your mind, and love thy neighbor as thyself.
Mama never went against God's Word and while other women were fleeing from one miserable relationship to the other, Mother stayed in hers. Even when she was mentally and physically abused, leaving Papa was not even considered. She used to say, "I marry your father for better for worse...and 'til death do us part. Divorcing him is not an option." Death separated them and she had nothing bad to say about her husband. Mama is very happy now. She keeps telling her children, "When my Father calls me, I am ready. I lived a good life. I have no regrets."
Katherine Kennedy joined the Army, worked as a Data Analyst, joined the Sheriff's Department as a Correctional Officer, then transferred to Foster City and served as its first female officer.
Racial prejudice and discrimination resulted in her departure from Foster City and she returned to Southern California. After completing a Bachelor's in Psychology, Ms. Kennedy joined the Management Program at Security Pacific National Bank and after over 12 years with the Corporation, she left due to racial discrimination and returned to her first love, teaching. She has two Master of Arts degrees: one in Education Administration and the other in Special Education. Ms. Kennedy earned a National Board Certification in Special Education and has credentials in Administration, Reading, Learning Handicapped, and Multiple Subjects, and a certificate for Gifted and Talented Education.
Xulon Press, a division of Salem Media Group, is the world's largest Christian self-publisher, with more than 12,000 titles published to date Remembering Mama: God's Faithful Servant is available online through xulonpress.com/bookstore, amazon.com, and barnesandnoble.com.