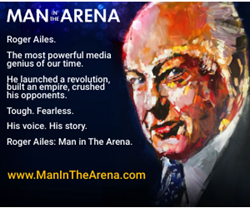 LOS ANGELES (PRWEB) September 26, 2020
"Man in the Arena," a documentary of Roger Ailes's 50-year career from campaign strategist to cable news mogul to fallen icon, won the Grand Prize at the Anthem Libertarian Film Festival September 22. Accepting the award, director Michael Barnes said, "One of the keys to understanding Roger Ailes is that he was a middle America guy who was a relentless champion of the underdog. Roger made it possible for underdogs to win. He excelled in leading long-shot campaigns against formidable foes, often in one-sided contests…. You have to measure the good with the bad, the failures with the successes. And it puts meaning and context to the incredible life and Shakespearean downfall of an icon."
"Speed of Life," directed by Liz Mansashil and described by festival producer Jo Ann Skousen as "sci-fi that isn't dystopian, romance that isn't formulaic, time travel that isn't predictable, and with a good dose of laughter" won the award for Best Narrative Feature.
Now in its tenth year, the Anthem festival was shut down less than two weeks before show time due to heightened Covid restrictions. "I was devastated for our filmmakers-- the actors, directors, musicians, editors, producers, set designers, scriptwriters, costumers, and everyone else who contributes to the making of a film," Skousen said. "We were thrilled when Salem Media provided a platform where we could stream the festival online."
Anthem's motto of "individuality, choice, and accountability" can be seen in the themes of the 31 films selected for screening this year. They include films about education, journalism, and government regulation; history and politics; love and sacrifice; and individuals overcoming obstacles through resourcefulness and self-reliance. Award winner "Get Off," a short narrative by Iranian filmmaker Teymour Ghaderi, is a good example of that resourceful and resilient spirit. It follows a plucky teenaged girl as she dodges police to get her bicycle across town when her male friend is unable to provide the required escort.
Other winners include "The Teleios Act" (Grant Bergland, director) for short narrative, "The Big Skim" (Molly Dedham, director) for short documentary, and "They Say It Can't Be Done" (Michael Ozias and Patrick Reasonover, directors) for Documentary Feature.
When asked about her personal favorite, Skousen responded, "I'm the mother to my festival. I don't have favorites. But in this divisive and violent year, I especially appreciate "What's Your Number?" by Sigal Erez. She took a symbol of violent oppression –the number tattooed on an arm-- and turned it into an expression of hope -- the numbering of our souls. I don't think any other film so clearly expresses the intrinsic value of each individual and Anthem's motto of individuality, choice, and accountability."
The festival can be viewed on SalemNow.com through October 1.
-30-