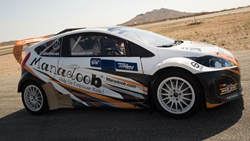 (PRWEB) May 29, 2015
Jackie Heinricher will make her debut racing Global Rallycross (GRC) at the series opener on May 31st in Fort Lauderdale, Florida. Teaming with legendary performance driver Rhys Millen and the team at Rhys Millen Racing, she is already a veteran of the car-racing world, racing in such series as The Ferrari Challenge, Jim Russell F3 Series and BMW Pro 3, and is excited for the door-to-door action that comes with racing in the GRC series, saying "GRC is a new platform of racing to me, and I'm fired up to get in the mix and adapt my skill set to my new environment."
Millen adds, "She's not the typical racer package, but from what I've seen in our extensive testing has real talent and determination and she will be formidable on the track."
During her testing for the GRC series, Heinricher had the opportunity to co-star in a new music video for singer/actress Lauren Mayhew and DJ Noah Kickback's collaboration song, Danger Zone. Shot at famed racetrack Willow Springs Raceway in California, the video was a chance for Heinricher to show off her drifting skills in a head-to-head desert battle with fellow driver, Patrik Sandell. The song, and video, will be featured on the opening day race of the Global Rallycross series, airing on NBC.
Off the racetrack, one of Heinricher's passions is helping kids around the world and she recently became the first Ambassador for the Manadoob Program for Self-Esteem. "Representing a program as ground breaking as Manadoob is a pinnacle in my personal life and my professional career. It's an honor to join Manadoob to light up the world of kids and help empower their self-esteem, their future, and help the fight against bullying. My personal passion and desire to achieve against the odds represents a perfect match for my ambassadorship with Manadoob" says Heinricher. Co-founders of the Manadoob Program, June Salin and Susan Cooper, are just as excited to have Jackie on-board, saying "We are honored to have an individual so devoted to providing children with the life skills they receive through Manadoob to instill in them compassion and respect as they learn to celebrate diversity on a global scale." The Manadoob Program has been touted most recently for its comfort to the children of Nepal during the current earthquake disaster.
About Jackie Heinricher:
Jackie Heinricher carries the #57 in her first season in the Global Rallycross Lites Series. She competes in open wheel and other sports car series in 2015.
As founder/former President and CEO of Booshoot, Heinricher launched and built a company that got its humble beginnings in her garage, dividing plants by hand, in Anacortes, WA. Booshoot lead the world in innovative forestry and Ag plant sciences enabling commercial production of fast growing, sustainable and highly productive food and forestry crops without GMO. She earned her master's of science degree in fisheries from Tennessee Tech University, has authored numerous patents and articles for peer reviewed journals, and has been featured in the Seattle Times, New York Times, NPR and Reader's Digest, among others. Amongst her many accomplishments, Ms. Heinricher proudly served in the United States Air Force as a medic.
Follow Jackie on Social Media: facebook.com/RacerJackie; instagram.com/racer_jackie; twitter.com/racer_jackie
About Manadoob:
The Manadoob Program for Self-Esteem is an inquiry based, social and emotional program, which builds a child's self-esteem so each child can more effectively stand up to and prevent bullying, treat others respectfully, cope with peer pressure and stress, and develop empathy, resilience, and integrity. The program celebrates diversity and inclusion instilling a sense of belonging in children while creating a non-threatening environment in which they can share and explore learning. For more information, visit http://www.manadoob.com.