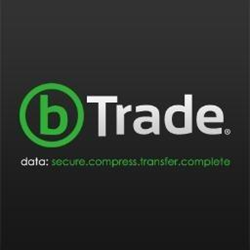 bTrade has always focused on continued quality, and this perfect supplier rating reconfirms our mission to provide our customers with the highest quality products and services possible," said Steve Zapata, President and CEO of bTrade
Glendale, CA (PRWEB) August 20, 2014
bTrade, the industry leading compression and managed file transfer(MFT) provider, announced today that it received a perfect supplier score and 100% compliance rating from its customer, Telered, S.A.
Telered, S.A., Panama's largest electronic payment processing company, conducted an ISO 9001: 2008 supplier audit on bTrade in June 2014. In this audit, bTrade was rated on these key metrics: product quality, expertise and experience of employees, timeliness and effectiveness of problem resolution, return on investment, and overall performance in the competitive market space.
Yaribel Fuentes, Assistant Manager for Process and Quality at Telered, S.A., commented that "bTrade has been rated as an excellent quality supplier."
"It is extremely gratifying to receive this recognition from our customer, Telered, S.A.," said Steve Zapata, President and CEO of bTrade. "bTrade has always focused on continued quality, and this perfect supplier rating reconfirms our mission to provide our customers with the highest quality products and services possible," added Zapata.
For more information on bTrade's solutions and services, please visit bTrade.com
About bTrade
bTrade develops managed file transfer technology solutions for enterprises that share sensitive data across applications and organizations, and face complex security and compliance mandates. Thousands of customers depend on bTrade solutions to gain control and oversight of the movement of critical corporate data to facilitate data growth, reduce security risk, and improve IT and business efficiency. bTrade was founded in 1990 and is led by eBusiness visionaries who have delivered industry-leading business integration solutions to thousands of enterprise customers worldwide. bTrade is privately held and profitable with its global headquarters located in Glendale, California USA.