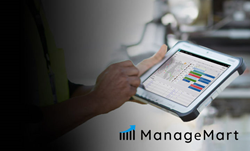 We want to make management a habit for everyone. The cost shouldn't be a burden in this case". Now all companies have good chance to Save yours time & money with us
CAPE CORAL, Fla. (PRWEB) August 06, 2018
ManageMart announced the upcoming release of ManageMart 2.0, enterprise version targeting small field service business companies. The software will include upgraded functionalities and enhanced mobility to completely simplify management processes. "We always look forward to help small- and large-scale businesses optimize administrative and managerial routine," said Antony, CMO at ManageMart.
In the last quarter, analysists at ManageMart saw a surge in customer segment for large corporations. To meet demands for the new users, the focus group decided to launch the upgrade for the current software. Newest ManageMart is currently in the demo version and is being tested by 25 company owners from all over the states. Insiders shared some updates to expect for the 2.0. Software engineers enhanced synchronization allowing ManageMart corporate customers to manage their businesses using one and only platform. Scheduling, financial operations, employee management and customer relations are all synchronized into one place brining the efficiency to the next level.
Just as before, ManageMart will allow users to use Square, Stripe, and PayPal for processing payments as well as manage accounting operations through Quickbooks Intuit. Along with that, the software will include advanced multi-routing option to identify the best means of reaching various locations at the same time. The 2.0 will have diversified scheduling alternative to manage many departments and levels of the company. Moreover, corporate users will have free access to SnailMail and internal messaging system that allows executives/owners stay on top of the daily processes without wasting time on finding contacts or scheduling mailing services. "I myself have faced with way to many issues while running landscaping service in early 2016, and using ManageMart has highly elevated our business performance since then," said Alex Schmidt, ManageMart board member.
To further the excitement behind the release, Antony Chybisov, ManageMart CMO, promised an exclusive price for the users who register before the end of the summer & use the beta version Managemart 2.0 - Cloud Field Management Software. "We want to make management a habit for everyone. The cost shouldn't be a burden in this case. After 14 august we change all plans price, but now all companies have good chance to Save yours time & money with us," said Antony. That is why, this discount attributes to small business owners and self-employed professionals as well, who can enjoy the full range of features at the affordable price point.
According to Antony, ManageMart was created to serve people and enhance business performance. Just as before, the core principles remained the same – efficiency, time, and money. That is why, the software has been made affordable for all users, from small businesses to large corporation. ManageMart 2.0 is just one of the examples how company addresses market demands and exceeds expectations. We have integrated with Quickbooks Intuit Online, the service will be available to all users is scheduled for the of Aug 14.
About ManageMart
ManageMart is an innovative, forward-looking, and prestigious Cloud Field Management Software that brings productivity to the next level. The company incorporates daily developments through customer feedback bringing the best performance to our users. ManageMart specialize in scheduling, invoicing, routing, dispatching, contracting, and many more. Contact us at managemart.com