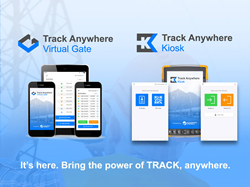 The new TRACK Anywhere product suite was designed to give businesses greater insight across all their contractor activities.
HOUSTON (PRWEB) March 17, 2020
Management Controls, Inc. (MCi), the global leader of enterprise contractor management software, is proud to announce the launch of TRACK Anywhere, a suite of mobile applications purpose-built for managing remote workforces.
MCi's TRACK Platform provides business owners with a comprehensive automated software solution for managing contractor labor, equipment and materials costs across their enterprise. For over 30 years, companies across a broad range of industries have relied on the TRACK Platform for automated contract compliance, eliminating invoice disputes and possible over/under payments. Now, with the introduction of TRACK Anywhere, businesses can manage their remote workforce as well.
The TRACK Anywhere suite provides business owners with real-time visibility into manpower and costs in the field through two innovative applications. First, TRACK Virtual Gate enables contract employees to badge in and out with their mobile phones from remote locations, as well as enter field notes and photographic documentation of their activities. The cross-platform application runs on both iOS and Android devices, giving contractors a convenient way to log their work while providing their employers with total transparency via geo-boundaries and GPS data.
Second, TRACK Kiosk lets contractors conveniently scan QR coded badges or RFID badges as they enter the premises or worksite, providing a streamlined way for businesses to manage remote worksites. With GPS location enabled, customers and vendors are able to validate workers are in the right place at the right time. Additionally, the TRACK Kiosk provides the ability to validate Contractor Pre-Qualification requirements such as proper insurance requirements and appropriate training certifications are in place prior to entering the work location thus reducing potential liability. The portable tablet device can be moved from each work location, allowing managers to maintain oversight of their crews no matter where the job takes them. The intrinsically safe, ruggedized tablet can also be mounted at a fixed entry point for ease of use.
MCi President Ken Naughton says the new TRACK Anywhere product suite was designed to give businesses greater insight across all their contractor activity. "We know that for many companies, remote worksites are an essential part of doing business – but it can be a real challenge to get a clear picture of who was on site and what they should be paid. We can now bring the power of the TRACK Platform to non-fenced work locations such as pipelines, power distribution & transmission lines, offshore platforms, railways, and construction sites. These industries have the opportunity to achieve the tremendous savings the refining and chemical industries have been saving for over 30 years."
To learn more about MCi's robust suite of labor, equipment, and materials automation solutions, visit https://www.managementcontrols.com.
About Management Controls, Inc.
Management Controls, Inc. (MCi) helps companies obtain better visibility, control and productivity from their contract workforce. MCi's TRACK® Platform provides automated contract compliance as well as a holistic view across their entire labor, equipment and materials spend. TRACK's real-time data can be proactively applied to optimize performance and safety for routine maintenance, turnarounds, capital projects and operations. With the powerful addition of MCI's customized analytics service and its managed service offering TRACK-as-a-Service (TaaS), companies can leverage MCi's 30+ years of experience to get even more out of TRACK, as well as identify opportunities to improve site productivity overall.