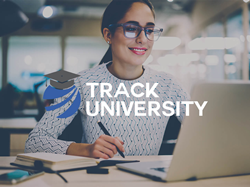 TRACK University provides self-paced and remote access to training resources no matter where they are on their TRACK journey
HOUSTON (PRWEB) April 23, 2020
Management Controls Inc. (MCi) the global leader of enterprise contractor management software, is excited to announce the launch of TRACK University, an eLearning platform that will serve as a distance learning tool for all MCi's SaaS products.
Distance learning has become more prevalent in driving consistency and cost controls in organizations across the globe. It is a necessity for organizations to quickly address training needs for new employees, whether that is in the office or working remotely. 
TRACK University is packed with courses designed for all the different user-specific roles within the TRACK Platform to fight the forgetting curve and drive the speed of TRACK adoption within organizations. Within TRACK University, users experience different training principles that deliver TRACK learning based on the individuals learning preferences, through video learning and post-course quizzes to test the learning.  Studies have shown that 65% of people are visual learners and that quizzes inside of eLearning have a 20% higher impact on post training efficiencies!
TRACK University offers certifications for completing user-specific learning plans. For the initial release, there are learning plans and certifications available for Vendor Timekeepers. There will be additional learning plans and certifications for TRACK Coordinators and TRACK Authorizers becoming available throughout the year.
MCi President Ken Naughton says the new TRACK University eLearning Platform was designed to provide a streamlined training approach that is accessible to users at any time, wherever they are. "We know that many companies have differing levels of maturity in using the TRACK Platform. TRACK University provides self-paced and remote access to training resources no matter where they are on their TRACK journey. I'm also excited about our TRACK Certification program. Now there is a vehicle for our customers to ensure resources know TRACK prior to utilizing them in their TRACK Program."
To learn more about MCi's Contractor Management Product Suite and new eLearning Platform, visit https://www.managementcontrols.com.
About Management Controls, Inc.
Management Controls, Inc. (MCi) helps companies obtain better visibility, control and productivity from their contract workforce. MCi's TRACK® Platform provides automated contract compliance as well as a holistic view across their entire labor, equipment and materials spend. TRACK's real-time data can be proactively applied to optimize performance and safety for routine maintenance, turnarounds, shutdowns, outages, capital projects and operations. With the powerful addition of MCI's customized analytics service and its managed service offering TRACK-as-a-Service (TaaS), companies can leverage MCi's 30+ years of experience to get even more out of TRACK, as well as identify opportunities to improve site productivity overall.