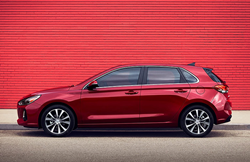 CHICO, Calif. (PRWEB) July 17, 2020
During the month of July, Chico Hyundai has various manager specials available for customers interested in select 2020 Hyundai Elantra models. Three models are included in the special and receive retail bonus cash off the initial sales price. Both a 2020 Hyundai Elantra SE and 2020 Elantra ECO receive considerable bonus cash offers while a 2020 Hyundai Elantra GT receives both cash off its price as well as a special lease offer. Each model also receives 0% APR financing for 36 months.
The first vehicle available in the manager special is a 2020 Hyundai Elantra SE. For specifications, the model receives up to an estimated 30 city and 40 highway MPG with its 2.0-liter four-cylinder engine. Though its sales price is initially $19,105, the Elantra SE is available for $17,105 after a $2,000 retail bonus cash offer.
A black 2020 Hyundai Elantra ECO is also available in the manager special. The model receives up to an estimated 41 highway MPG and 33 city MPG and possesses a 1.4-liter automatic transmission. The front-wheel drive model is available for a net price of $19,500 after a $1,500 retail bonus cash offer.
Lastly, a Stellar Silver-colored 2020 Hyundai Elantra GT is available with both retail bonus cash attached or at a special lease price. The model holds a 2.0-liter engine that receives an estimated 25 city, 32 highway MPG rate. The base price for the hatchback is initially $21,880, but it is marked at $20,147 after a $1,000 retail bonus cash deal. However, the vehicle can also be had for $179 per month for a 36-month closed-end lease with $2,999 due at signing for well-qualified buyers.
Those interested in the available manager specials at Chico Hyundai are welcomed to contact the dealer or head to their location at 2562 Cohasset Road in Chico, CA. For more details on each special, customers can call the dealership directly at 833-308-0570 or on their website at https://www.chicohyundai.com/.