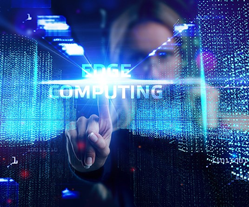 Simply put, edge computing refers to processing data closer to where the data is created or consumed. Processing data at the source improves performance but also creates challenges.
HOBOKEN, N.J. (PRWEB) October 29, 2020
Messaging Architects, an eMazzanti Technologies Company and data governance consultant, discusses the challenges of managing data at the edge in a new article on the Messaging Architects website.
The informative article first explains how edge computing helps to save bandwidth by processing data closer to its source. The author then discusses the benefits of edge computing, including decreased latency, increased performance, and improved user experience. Finally, he addresses some of the challenges, including increased complexity, the need for network adjustments and stronger data security.
"Simply put, edge computing refers to processing data closer to where the data is created or consumed," stated Greg Smith, Vice President of Services Delivery at Messaging Architects. "Processing data at the source improves performance, but also creates challenges."
Below are a few excerpts from the article, "Managing Data at the Edge."
Benefits of Edge Computing
"When processing happens at or close to the source, machinery and applications respond with greater speed and efficiency. And, since much of the processing occurs locally, only a subset of the data needs to travel across bandwidth."
"Retail and gaming benefit from consumer apps that respond instantly, improving user experience. And for the much-anticipated autonomous vehicles, analyzing data at the source will prove essential. Edge computing also lays the framework for future developments in the IoT and artificial intelligence."
Addressing the Challenges of Managing Data at the Edge
"Like any emerging technology, managing data at the edge presents its own challenges. For instance, decentralizing data storage and processing adds complexity. Multiple, smaller data centers require management and monitoring. And network design will need to adjust to accommodate processing of data at the edge."
Navigate the New Environment with Confidence
As with any emerging technology, organizations need to make adjustments in order to get the most out of edge computing. That involves assessing current data usage trends and preparing for future data needs as influenced by increased dependence on the IoT and AI. This may require adapting networks and security configurations, as well as data governance policies.
Messaging Architects helps business leaders master the complexities of managing data on the edge, determine the optimal mix of cloud and edge computing and manage technology infrastructure accordingly. With deep expertise in network design, network cyber security and information governance, they provide the data governance expertise required.
Have you read?
How Data Compliance in the Cloud Happens
How Data Modeling Supports Effective Data Governance
About Messaging Architects
Messaging Architects specializes in effectively managing and securing an organization's most precious asset, its information. With over 20 years of information management and technology consulting experience, the Messaging Architects team has provided corporations, educational intuitions, health care facilities and nonprofits with methodologies, procedures and technology to keep their data organized, compliant and secure.
About eMazzanti Technologies
eMazzanti's team of trained, certified IT experts rapidly deliver increased revenue growth, data security and productivity for clients ranging from law firms to high-end global retailers, expertly providing advanced retail and payment technology, digital marketing services, cloud and mobile solutions, multi-site implementations, 24×7 outsourced network management, remote monitoring and support.
eMazzanti has made the Inc. 5000 list 9X, is a 4X Microsoft Partner of the Year, the #1 ranked NYC area MSP, NJ Business of the Year and 5X WatchGuard Partner of the Year! Contact: 1-866-362-9926, info@emazzanti.net or http://www.emazzanti.net Twitter: @emazzanti Facebook: Facebook.com/emazzantitechnologies.