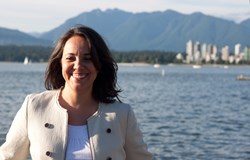 When looking for a reputable coach, the ICF credential represents a well-trained coach who adheres to industry standards and is committed to serving clients on their journey in making lasting personal change.
Vancouver, BC (PRWEB) October 31, 2013
Jessica Manca, a life and career coach, recently earned the prestigious designation of Associate Certified Coach (ACC) by the International Coach Federation (ICF). The ICF is the leading global organization of over 20,000 professional personal and business coaches and offers the only independent and internationally recognized coach credentialing program. By earning an ACC credential, Manca has made a solid commitment to the profession of coaching.
Coaching is partnering with clients in a thought-provoking and creative process that inspires them to maximize their personal and professional potential. Coaches work with clients in many areas, including business, career, finance, health and relationships.
Coaching credentials offered by the ICF benefit both coaches and consumers. By acquiring an ICF Credential, consumers know that a coach is creditable and has proper coaching experience. ICF Credentialed coaches meet the highest professional standards and adhere to a strong code of ethics. ICF Credentialed coaches must meet several requirements including obtaining a minimum number of coaching experience and coach-specific training hours. In addition, coaches who apply for a credential are assessed in their coaching standards and competence both orally and in writing by experienced, independent assessors under strict examination conditions.
Coaching is a distinct service and differs greatly from therapy, consulting, mentoring or training. Individuals who engage in a coaching relationship can expect to experience fresh perspectives on personal challenges and opportunities, enhanced thinking and decision-making skills, enhanced interpersonal effectiveness, and increased confidence in carrying out their chosen work and life roles.
Manca delivers personal, professional coaching and specializes in early, mid-career, and pre-retirement professionals seeking fulfillment, in transition or contemplating career change. Her coaching combines life, career and executive coaching methods to help clients live the balanced life they want. Coaching is offered via phone, in-person or Skype coaching. Manca serves clients across North America and offers an initial discovery consultation to those new to coaching.
Manca is a member of the International Coach Federation (ICF), Vancouver British Columbia Chapter and abides by the ethics and standards of the ICF. She completed her coach training with Royal Roads University's graduate program for Executive Coaching and earned a Certified Executive Coach (CEC). She continues to support new coaches through volunteering with the Royal Roads University Alumni Coaching program, and also serves as a volunteer mentor with the Women in Leadership Foundation helping women develop leadership skills.
Manca founded Managing Mindspaces which provides coaching services and resources to "Illuminate your greater purpose." Using self-discovery, learning tools and professional coaching, Manca delivers strategies to find the best solution within and create lasting personal change. For more information on getting started with coaching, read the Beginner's Guide to Coaching.
Manca is currently self-publishing her first book, "Finding Passion, A Self-Discovery Approach for Navigating Career Crossroads." The book shares her experience overcoming career burnout and finding her passion through coaching. Coming November 2013.
The International Coach Federation is the leading global organization for coaches, with over 20,000 members in more than 100 countries and more than 9,000 credentialed coaches worldwide. ICF is dedicated to advancing the coaching profession by setting high ethical standards, providing independent certification, and building a worldwide network of credentialed coaches. For more information, please visit http://www.coachfederation.org.