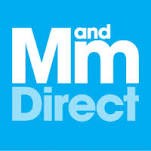 (PRWEB UK) 23 December 2013
Leading online fashion retailer, MandM Direct have sent Christmas presents to young people supported by their partner charity of eight years, Teenage Cancer Trust. The parcels, consisting of socks, hats, purses and other gift items, were received by young people at Teenage Cancer Trust's Bristol Unit on 18th December 2013, in time for Christmas. The delivery marks the eight consecutive year that MandM Direct have sent presents to young people receiving treatment on Teenage Cancer Trust unit over the Christmas period.
MandM Direct first established a relationship with Teenage Cancer Trust in 2005. Since then the partnership has gone from strength to strength and the online retailer has become one of the charity's longest and most valued corporate supporters. Over the course of the partnership the organisations have introduced a number of cause related initiatives, such as this year's London 2012 product donations, to raise a massive £1,068,000 for the charity.
The support from MandMDirect has not been restricted to financial gains for the charity, as the company has generously donated various items to both our young people with cancer and the charity's supporters. These Gifts in Kind include the Christmas presents for young cancer patients, t-shirts, sports equipment and accessories.
Jonathon Brown, CEO of MandM Direct commented, "It's fantastic to have the opportunity to support Teenage Cancer Trust by spreading the Christmas joy to their Bristol unit. We really hope the young people enjoy the gifts we've sent."
ENDS
About MandM Direct
MandM Direct is one of the largest online discount clothes retailers in Europe. Over the last 25 years the company has been dedicated to delivering the biggest fashion and sports brands at the lowest prices. Through consistently living the company's core values MandM Direct has attracted over one million active customers, receives 33 million visits a year to their website and has been awarded a number of prestigious accolades in the retail industry; including Etailer of the Year in the 2010 Drapers Etail Awards. To find out more visit http://www.mandmdirect.com/
About Teenage Cancer Trust
Teenage Cancer Trust is the only UK charity dedicated to improving the quality of life and chances of survival for the seven young people aged between 13 and 24 diagnosed with cancer every day. We build specialist units within NHS hospitals bringing young people together to be treated by teenage cancer experts in a place designed just for them. We want every young person with cancer to have access to this specialist support, no matter where they live.
Traditionally treated alongside children or elderly patients at the end of their lives, young people can feel extremely isolated during treatment, some never meeting another young person with cancer. Being treated alongside others their own age can make a huge difference to their whole experience.
Teenage Cancer Trust also educates young people and health professionals about cancer to ensure a swift diagnosis and referral to specialist support. Cancer in young people is rare but we want young people to know the common signs and symptoms so they can seek medical advice if they are worried.
We rely solely on donations to fund our vital work. You can help transform the lives of young people with cancer. Visit http://www.teenagecancertrust.org to find out how.
Teenage Cancer Trust is a registered charity, no. 1062559 (England and Wales) and SCO39757 (Scotland).
Contact
Susannah Aldred
Social Media & PR Executive
T: 0871 664 9574
M: 07714107346
F: 0871 664 1756
E: saldred(at)mandmdirect(dot)com
W: mandmdirect.com