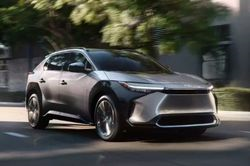 MANHATTAN BEACH, Calif. (PRWEB) March 16, 2023
Manhattan Beach Toyota, a well-known Toyota dealership located in Manhattan Beach, California, has announced the addition of the latest 2023 Toyota bZ4X electric SUV to its inventory. The 2023 Toyota bZ4X is a cutting-edge electric vehicle designed to deliver exceptional performance, efficiency and style.
The 2023 Toyota bZ4X features a bold and modern design that differentiates it from other SUVs. The vehicle is equipped with an advanced electric motor that provides exceptional acceleration and a smooth and quiet ride. The bZ4X also features a spacious and luxurious interior, with comfortable seating for up to five passengers and advanced features such as a large touchscreen display, wireless smartphone charging and a premium sound system.
Interested buyers can learn more about the 2023 Toyota bZ4X by visiting Manhattan Beach Toyota's website or the dealership in person. Test driving the bZ4X is highly recommended to experience its exceptional performance and features firsthand.
In addition to adding the 2023 Toyota bZ4X to their inventory, Manhattan Beach Toyota has a wide variety of new and pre-owned vehicles from various brands for customers to choose from. Drivers can also take advantage of the latest financing options and special offers available at the dealership, making it easier than ever to own a brand-new 2023 Toyota bZ4X.
As a leading dealership in the area, the Manhattan Beach Toyota dealership is committed to providing exceptional customer service and satisfaction.
Shoppers can log on to the https://www.manhattanbeachtoyota.com/ website to learn about the latest Toyota vehicles and new offers at the Manhattan Beach Toyota dealership. For detailed information on the stylish 2023 Toyota bZ4X, they can meet the dealership team at Manhattan Beach Toyota,1500 N. Sepulveda Blvd., Manhattan Beach, CA 90266 or contact them by phone at 855-995-7001.