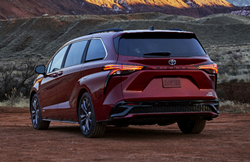 MANHATTAN BEACH, Calif. (PRWEB) March 15, 2021
Manhattan Beach Toyota is offering a variety of different service special discounts to interested drivers for the remainder of the month of March. These discounts range in what they have to offer for vehicles and will be discussed below. All the discounts mentioned can only be redeemed at Manhattan Beach Toyota, which serves the greater Manhattan Beach area. The deadline to redeem these offers ends March 31, 2021, so interested drivers are encouraged to act now while they still can.
One service deal that Manhattan Beach Toyota has available for the rest of the month is a combo package that includes an air filter and an engine air filter. The cabin air filter helps catch dust, mud and other allergens that can make a vehicle uncomfortable to ride in. With the engine air filter replaced, the vehicle will better be able to capture airborne allergens before they get to your engine. The cost of this dual package service is only $99.95.
Another service deal that Manhattan Beach Toyota has to offer is window shield wiper installation. For $49.95 you can get brand new top-of-the-line Sightline Wiper Blades for your Toyota vehicle. On top of the new wipers, a trustworthy representative from Manhattan Beach will install them for you for no extra charge.
If drivers are interested to see what other service deals Manhattan Beach Toyota has to offer, they can visit their website at https://www.manhattanbeachtoyota.com/ to get more details. The service deals can be found under the "specials" tab on their menu.