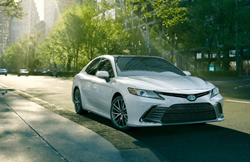 MANHATTAN BEACH, Calif. (PRWEB) April 05, 2021
Manhattan Beach Toyota is ecstatic to announce that they are offering select leasing discount opportunities on different popular Toyota sedans. Drivers who are interested in the 2021 Toyota Camry or 2021 Toyota Corolla are encouraged to act now before this offer runs out.
The 2021 Toyota Camry is available to lease for the price of $199 per month. With the $199 per month price, however, there is also a down payment of $3,000 that is also due at the time of purchase. If reliability and dependability are values that a vehicle needs to have, the Camry is a top-tier choice to go with.
Another vehicle available for lease is the 2021 Toyota Corolla. The Corolla can be leased for as low as $150 per month for however long the lease term is that you agree upon. At signing there is a $3,000 down payment that is due, just like there is with the Camry. The Camry is another fantastic, affordable option when looking into a four-door sedan as the next vehicle for drivers.
More information about these leasing offers and details regarding the Corolla and Camry can be found on the Manhattan Beach Toyota website today. The website can be found here at https://www.manhattanbeachtoyota.com/?utm_source=prweb&utm_medium=press_release&utm_campaign=2021april5 and on the site, there are other deals and promotions that drivers can take advantage of. Another way to learn more about what Manhattan Beach Toyota has to offer is by reaching out to them directly either by phone or email. Visiting the "about us" page on their website will provide all that information.