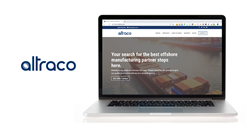 Although the world feels smaller, offshoring manufacturing remains complex and difficult. We're excited to offer a community of resources to help industry professionals manage all of the details necessary for successful overseas production.
THOUSAND OAKS, Calif. (PRWEB) April 18, 2019
Altraco, a contract and private label manufacturer based in California, has launched a new website for category buyers, suppliers, brands, and sourcing specialists who want to learn more about effectively navigating overseas manufacturing. The site offers practical information and resources for brands looking to produce goods overseas.
More information can be found at http://www.altraco.com.
Visitors can learn tips for streamlining or consolidating their processes, or talk with industry experts about challenges faced when designing, producing, shipping and receiving products from overseas factories. The website also provides visitors with tips for choosing a trusted advisor who will partner with them to overcome various challenges, from inventory management to tariff strategy.
"The new site was designed to help companies who produce goods overseas – whether they're new to the process, or they're simply trying to become more efficient or drive higher quality," says Al Brenner, co-owner of Altraco.
One of the most popular topics Altraco has seen in the marketplace has been the conversation about tariffs and their impact on overseas production as well as the economy as a whole. In response to this demand, the new site features a helpful ebook specific to supply chain managers, sourcing specialists, and category buyers, titled, "Outsourced Manufacturing: The Guide to Navigating US Tariffs".
"Although the world feels smaller, offshoring manufacturing remains complex and difficult. We've spent the last 38 years helping our clients build a reliable supply chain, support expansion, and minimize headaches that can plague overseas production. We're bringing what we've learned to the digital community and look forward to building this out even more to drive value for the industry."
Additional topics that are planned for future content include tips for producing products for private label, identifying and producing store branded products to effectively compete with online retailers like Amazon, and maintaining quality control in overseas production.
About Altraco
Founded in 1980, Altraco simplifies the process to provide companies with quality products and on-time delivery at a compelling price. Altraco leverages decades of experience to provide reliable and cost-efficient solutions for contract and private label manufacturing, trusted by Fortune 500 companies. Through proven factory relationships in multiple countries and 38 years navigating the complexities of overseas manufacturing, including tariffs, Altraco finds innovative solutions to supply chain challenges.