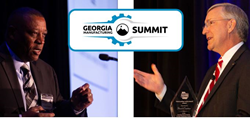 Culture is how the organization really operates.
ATLANTA (PRWEB) October 11, 2019
Leaders in the manufacturing industry shared their insights into achieving success at the 5th annual Georgia Manufacturing Summit on Oct. 9 at the Cobb Galleria. Werhner Washington, recently retired plant manager for the Procter and Gamble Albany plant, and Kia Motors Manufacturing Georgia COO Stuart Countess spoke before a crowd of almost 800 manufacturing insiders.
Washington's career at Procter and Gamble spanned more than 35 years. This year, he led the Albany plant to win the "Manufacturer of the Year" award for Georgia. "It was never our goal to win awards," he said. "It was always our goal to deliver total shareholder returns." Having the right culture is the key to success, he added.
Culture, he explained, is "how the organization really operates," as opposed to how the organization would like to operate. "Culture is what happens every single day."
Among his advice to the manufacturing leaders, Washington said a winning culture includes peer to peer accountability, employee ownership of the core operation, continued learning from other industry leaders, rewarding results instead of activities and creating a servant-leadership structural model.
Countess recounted the 10-year history of the Kia Motors Manufacturing plant in Georgia, noting that the West Point, Ga., area did not have a workforce with automotive manufacturing experience. They didn't lack for applicants – approximately 43,000 people applied for the initial 1,000 jobs – but they had to get the workforce trained.
"It takes partnerships," he said, citing the Georgia Quick Start program. KMMG has also worked with the community to create workforce education programs that begin in the elementary schools, up through high school and technical colleges.
KMMG weathered the recession that began soon after they rolled out the first cars in 2008, has added two additional shifts and this year began production on the Telluride, its first vehicle designed for the U.S. consumer and first vehicle to be exported overseas. There is currently a five-month wait list for the Telluride.
"Kia has completely rebranded and changed it's image," said Countess. "People who had never built a car and came from other industries are now building the number one product. It's quite an accomplishment for Georgia."
The Georgia Manufacturing Summit is a tradeshow produced by the Georgia Manufacturing Alliance (GMA). GMA is a membership-based industry organization founded in 2008 to support Georgia's manufacturing community. GMA provides monthly plant tours, educational sessions, tradeshows, and unique networking opportunities designed to help make profitable business connections for its members. The Georgia Manufacturing Directory, Georgia Manufacturing Summit, Georgia Manufacturing Calendar, and BuyFromGeorgia.com are additional resources produced by GMA. To learn more about the organization, membership, and upcoming events, please call 770-338-0051 or visit their website http://www.GeorgiaManufacturingAlliance.com.