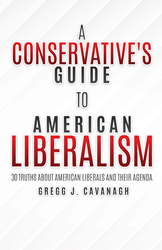 If you want to understand American liberals and their agenda, this book is for you
MAPLE GROVE, Minn. (PRWEB) August 20, 2020
Author Gregg J. Cavanagh exposes liberalism's true objective in A Conservative's Guide to American Liberalism: 30 Truths About American Liberals and Their Agenda ($11.49, paperback, 9781631295140; $24.99, dust jacket, 9781631295157; $5.99, e-book, 9781631295164).
As much as they insist they serve social justice, Cavanagh insists that liberals have their own end game in mind. He questions why their solutions always involve more government, less freedom, and higher taxes. The informed voter should understand the motives that fuel the American liberal left.
"If you want to understand American liberals and their agenda, this book is for you," said Cavanagh.
Gregg J. Cavanagh is an attorney who has represented employers in labor and employment matters for more than 35 years. He received a BA summa cum laude in economics and political science from the University of Minnesota College of Liberal Arts and a JD from the University of Minnesota Law School. He has written extensively about public policy matters (including numerous opinion pieces to the Minneapolis Star Tribune) in his hometown of Minneapolis, Minnesota.
###
Liberty Hill Publishing, a division of Salem Media Group, is a leader in the print-on-demand, self-publishing industry. A Conservative's Guide to American Liberalism is available online through amazon.com and barnesandnoble.com.