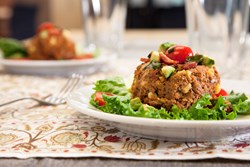 'We were very pleased with the variety and creativity of the recipe submissions from contestants,' said Maple Leaf Farms Consumer Marketing Director Nora Macon. 'It was the first year that we received dessert recipes using our duck products.'
Leesburg, IN (PRWEB) January 25, 2014
Maple Leaf Farms has selected the winners in the 2013 "Strut Your Duck" Recipe Contest for consumers. The contest challenged entrants to create an original recipe that featured Maple Leaf Farms duck and submit a photo of the plated dish as part of the entry. Winners were informed on December 13, 2013.
Taking the Grand Prize of $4,000 was Sandi Sheppard, of Norman, Okla., for her Smoky Double-Duck BLT Stack recipe. She will also receive free Maple Leaf Farms duck products for a year.
A recipe submitted by Suzanne Clark, of Phoenix, Ariz., for Crispy Duck Sausage and Bacon Polenta Bites with Port Drenched Onions and Raisins was awarded the First Runner-Up Prize. The Second Runner-Up Prize was claimed by Susan Asanovic, of Wilton, Conn., for her Moroccan Spiced Duck and Pistachio B'stilla recipe. Receiving Honorable Mention was a dessert recipe by Jennifer Beckman, of Falls Church, Va., Maple Pecan Blondies with Duck Bacon.
"We were very pleased with the variety and creativity of the recipe submissions from contestants," said Maple Leaf Farms Consumer Marketing Director Nora Macon. "It was the first year that we received dessert recipes using our duck products."
All recipes with accompanying final dish photos were evaluated anonymously by a panel of judges from Maple Leaf Farms in two separate judging rounds. The Top 10 finalists' recipes were prepared in the final round of judging, where taste of the prepared duck dish was emphasized.
All contest entries, along with the winning recipes, may be viewed on the contest website at http://www.duckrecipecontest.com. Dates for the 2014 contest will also be announced on this site.
About Maple Leaf Farms:
Maple Leaf Farms, Inc. is America's leading producer of quality duck products, supplying retail and foodservice markets throughout the world with innovative, value-added foods. Founded in 1958, Maple Leaf Farms is a fourth generation family-owned company. For more information, contact Maple Leaf Farms at 1-800-348-2812 or visit http://www.mapleleaffarms.com.