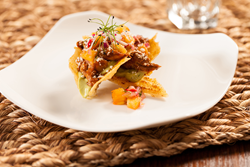 Duck is a natural fit for today's global cooking culture as demonstrated by the many ethnic influences in this year's winning recipes.
LEESBURG, IND. (PRWEB) October 03, 2016
Duck proved to be on the mind of many chefs and culinary students as the 2016 Discover Duck Recipe Contest sponsored by Maple Leaf Farms attracted a record number of entries (285). Professional chefs and culinary students from various foodservice business segments, including restaurants, catering, college/university, healthcare and education, competed for $21,000 in prize money in the annual recipe contest. This year's contest challenged culinary professionals to create original appetizers or first course offerings featuring Maple Leaf Farms duck products.
Competition was fierce, especially among professional chefs. Eljesa Haxhiu, Executive Sous Chef from Gwinnett Technical College in Lawrenceville, GA, narrowly edged out the competition with her recipe, Mole Duck Taco with Puffed Rice, Avocado Cilantro Puree, Pineapple Radish Salsa and Cotija, earning the $10,000 Grand Prize.
In the student division, Rebecca Alarcon from Houston Community College, captured the $5,000 Grand Prize with her original recipe for Butternut Squash Duck Lasagna.
Recipes were judged on flavor and creativity, as well as accuracy and method. Four additional professional chefs were awarded $1,000 each as finalists. Chef Branden Baldwin, Sous Chef at SMG/Savor Chesapeake Arena in Oklahoma City, created Mushroom Duck Confit Ravioli with Roasted Butternut Squash Puree and Blood Orange Reduction. Anthony Lauri, Executive Chef for Chartwells Dining Services at University of Miami, wowed judges with his Duck Confit Turnover with Green Spicy Papaya Slaw and Orange Blossom Vinegar Syrup. Marylou Tate, Assistant Professor, Nashville State Community College, was recognized for her Nashville Hot Duck, a twist on the Southern classic, while Richard Carter, Executive Chef for Catering Works in Raleigh, NC, gained honors for Duck Puppies with Sorghum Bourbon Glaze.
"Duck, with its rich flavor is especially well suited for appetizers and first course offerings," said Cindy Turk, Maple Leaf Farms marketing director. "And it is a natural fit for today's global cooking culture as demonstrated by the many ethnic influences in this year's winning recipes."
The three Master Chef judges were especially impressed by the creativity demonstrated by students. Carly Rapp, Southern New Hampshire University, was recognized for Seared Duck Breast Blini with a Plum and Rhubarb Compote and Quinoa Confit; Alvin Lawe, Johnson & Wales University, for Duck Croquettes and Sweet Pea Pure; Florian Schwartz, Le Cordon Bleu College of Culinary Arts, for Duck Breast Sliders on Crispy Potato Skins, and Cuong Hoang, Houston Community College, for Roasted Duck on Crispy Rice Cake with Spicy Mango Chutney. Each student chef finalist received $500 and a knife set.
Prize winning recipes and photos may be viewed on the contest web pages at http://www.mapleleaffarms.com/chefcontest/.
About Maple Leaf Farms:
Maple Leaf Farms, Inc. is America's leading producer of quality duck products, supplying retail and foodservice markets throughout the world with innovative, value-added foods. Founded in 1958, Maple Leaf Farms is a fourth generation family-owned company. For more information, contact Maple Leaf Farms at 1-800-348-2812 or visit: http://www.mapleleaffarms.com.