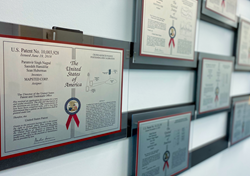 As a result of its commitment to innovation, Mapsted offers its clients location-based solutions that work anywhere, without the need for internet connectivity or additional external hardware, such as beacons.
MISSISSAUGA, Ontario (PRWEB) March 04, 2020
Mapsted's commitment to consistent innovation in location-based technology solutions has resulted in the company being awarded several new patents, bringing the total to 54 granted patents and more than 55 patents pending.
The company offers their location-based solutions without the need for internet connectivity or additional external hardware, such as beacons, demonstrating their commitment to developing the most advanced technology solutions to meet the growing needs of clients in a wide variety of industries.
Some of our key patents include:
US 9,906,914 B2 - Scalable Indoor Navigation And Positioning Systems And Methods
A scalable method of determining the indoor location of a device, such as a smartphone, using signal and sensor data points from multiple sensors without relying on hardware installation at the indoor location.
US 10,003,928 B2 - Crowd-Sourced Passive Positioning And Calibration
A crowd-sourced approach to the fingerprint calibration mapping process that enables rapid deployment and easier scalability of an indoor navigation solution.
A timeline of some of Mapsted's key innovations is available here.
About Mapsted Corp.
Mapsted is an innovative Canadian technology firm and a world leader in beacon-free indoor navigation solutions.
Unlike competing platforms, Mapsted's stand-alone patented solution doesn't rely on the use of any external hardware, such as beacons, to determine position, making it highly accurate, scalable, and inexpensive. The company holds more than 50 patents and has over 55 patents pending for its innovations.
Under the Mapsted Location Technology umbrella, the company provides front and back end indoor location-based solutions for various business sectors, including higher education, transportation, retail, healthcare, museums, resorts and parks, emergency services, trade shows, and exhibitions.
Its front end solution, Mapsted Maps, is a searchable, interactive map that helps users plan and visualize routes. Mapsted Location Platform provides back end functionality to help operations and facilities manage and customize individual services to meet specific business needs.
Businesses can leverage advanced indoor navigation and positioning technology, engage customers with intelligent location- and behaviour-based notification solutions, and get deep insights with a comprehensive location-based analytics suite to take their business to the next level.
In addition, the company offers Mapsted Location Solutions, a line of flexible out-of-the-box application solutions for various industries.
For more information, please visit Mapsted.com