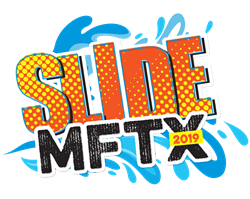 MARBLE FALLS, Texas (PRWEB) June 05, 2019
The Marble Falls / Lake LBJ Chamber of Commerce is pleased to announce the debut of Slide Marble Falls, an 850-foot water slide that will run through downtown Marble Falls on Saturday, June 15. The slide, owned by Urban Slide, is a gigantic inflatable slip-n-slide that will rise 40 feet above Main Street and run the length of nearly three football fields through the middle of downtown. The one-day water party will be open to the public from 10 a.m. to 10 p.m. on Saturday, June 15, culminating in a laser light show at dark, and coincides with Marble Falls' quarterly Market Day on Main, which runs from 10 a.m. to 4 p.m. and features more than 70 different vendors, food and more.
"This is the first time an event like this has been offered in the Hill Country region, and we are thrilled to bring an attraction like this to town," said Jarrod Metzgar, Executive Director of the Marble Falls Chamber of Commerce. "Summer is such a fantastic time of year in Marble Falls, and we want to kick off the season with a bang. Water is such a big part of why people visit Marble Falls this time of year, and the slide is a fun way to bring some of that water downtown. We're already hoping to bring it back again next year!"
The slide will begin on the corner of Third and Main and will run downhill and to the west. Using an inflatable tube, riders will climb the 40-foot stairway to the top and slide down to the bottom more than a city block away. Tubes are provided for all visitors.
Slide Marble Falls will take place the same day as Marble Falls' June Market Day, a long-running tradition that quarterly draws crowds of thousands to eat, shop and enjoy the town. With the slide as the focal point for June, Market Day offers more than 70 vendors selling handmade goods, food, clothing, furniture and more. The event is sponsored by the Marble Falls / Lake LBJ Chamber of Commerce, which works to attract locals and guests to attractions and events in the area and develops initiatives that generate business and reciprocate a true sense of the Marble Falls community.
Slide Marble Falls and Market Day are rain or shine events. Market Day is free and open to the public, while Slide Marble Falls requires tickets to participate. Tickets can be purchased in 2-hour increments for $20, or $40 for an all-day pass. Riders must be at least 5 years old and at least 46 inches. Tickets are on sale now, please visit marblefalls.org/slide for pricing details.
About Marble Falls
Perched on the banks of the Colorado River lies Marble Falls – gateway to and de facto capital of the Highland Lakes region of the Texas Hill Country. At once a cultural center and small-town charmer, Marble Falls stands as a premier Hill Country destination, offering enough gorgeous scenery, charming attractions and surprising amenities to keep travelers returning again and again, while also remaining uniquely suited as a hub to the surrounding region's natural beauty and surrounding towns. The City of Marble Falls provides resources and guides for all travelers, whether they're here for the summer or just passing through and is located just a short drive from both Austin and San Antonio. The Marble Falls Visitor Center on Highway 281 in downtown Marble Falls is the perfect place to start a journey, plan an itinerary or seek local-approved recommendations for food, lodging and more.
Links:
https://www.marblefalls.org/slide
https://www.facebook.com/MarbleFallsCoC/
https://twitter.com/marblefallscoc