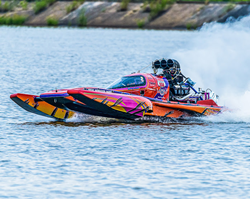 MARBLE FALLS, Texas (PRWEB) May 12, 2021
The Marble Falls Chamber of Commerce proudly announces the return of the Lakefest Boat Races held on August 7th & 8th after a three-year long hiatus. In partnership with the Southern Drag Boat Association, Lakefest provides spectators the rush of adrenalin as drag boats race along Lake Marble Falls at 200 MPH.
To start off the competition, visitors and locals will have free entry to the ever favorite "Show & Shine" where they will get an insider look at the extreme sport. Drag boats will be on display and attendees will be able to meet the drivers in Johnson Park Friday night from 5-8PM. Qualifying races begin Saturday morning at 9AM and will continue into the afternoon. Elimination rounds will begin on Sunday morning at 9AM and awards will be given to the winners Sunday night in Johnson Park at 5:30PM. All gates will open at 7AM.
Single day admission for adults begins at $20 per day and children ages 7-12 begin at $10. Children under 7 years old have free entry. For veterans and seniors over the age of 65, tickets will begin at $15 and visitors should be prepared to show ID at the gate.
Limited beach seating packages come with six two-day admission tickets, with the ability to bring a 10' X 10' tent for $400. Reserved grass area seating is available for $60 for a two-day admission to guarantee a great view with front row seating at the water edge. Maps of seating areas can be found on MarbleFallsLakefest.com.
To enjoy a full weekend of fun, adult, veteran, and senior tickets include a FREE Lakefest T-shirt valued at $20 when purchasing a two-day admission online before July 5th.
Coolers will be allowed at the event for a $20 cooler fee each day. Attendees can purchase the Cooler Passes online, or at the gate. This is a Bring-Your-Own-Beverage event; organizers will not be selling any alcohol. Food trucks and vendors will be available inside the gate for non-alcoholic beverages and food.
Branded Lakefest T-shirts and hats will be available for purchase at the event.
Craft makers, bakers, and style creators from around the Hill Country will be situated outside the gate for free entry, so attendees will be able to explore these vendors for great gifts and treats on Saturday from 8AM-6PM.
Attendees can purchase the Top Eliminator Package, which includes two-day admission; full weekend access to the Lakeside Pavilion Lounge with A/C, breakfast, lunch, and three drink tickets (21+); and an event T-shirt for $150. For children between the ages of 6-12, tickets are $60.
The racing will take place in Lakeside Park (305 Buena Vista Dr, Marble Falls) and the Show & Shine and the awards ceremony will be located in Johnson Park (230 Ave J, Marble Falls).
Tickets and a full schedule of events can be found on http://www.MarbleFallsLakefest.com.
Questions can be directed towards the Chamber of Commerce Event Coordinator Mindy Miller at Mindy@MarbleFalls.org or 830-693-2815.
About Marble Falls Chamber of Commerce
The Marble Falls Chamber of Commerce is a non-profit that makes much of its funding from large events. Our mission at the Marble Falls Chamber of Commerce is to support local businesses through education, networking, and tourism promotion through citywide events. For information on alternative events and future fundraising efforts, please visit https://www.marblefalls.org/.
About Marble Falls
Marble Falls is a small Texas town in the Highland Lakes region of the Texas Hill Country. Founded in 1887, its first settlers took advantage of nearby Granite Mountain and the Colorado River to build an economy at the turn of the century, with the town's population exploding in the decade after its founding. In 1917, Marble Falls became the first Texas town to elect a woman as Mayor, and Ophelia Crosby "Birdie" Harwood took office 3 years before women's suffrage was established in the United States. The town remained relatively sleepy until the end of World War II, when a boom in population doubled the town's size. Growth continued at a steady clip until the present, when Marble Falls retains its "small town" status without sacrificing the amenities and luxuries of a larger, more cosmopolitan city.