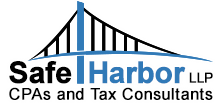 San Francisco is a city of very busy, very creative people.
San Francisco, CA (PRWEB) March 30, 2015
Safe Harbor LLP, one of San Francisco's top-rated accounting firms, has issued an informative blog post on five tips for last minute tax filings just in time for the approaching tax deadline of April 15th. The CPA firm has found, in years past, that many San Franciscans delay tax filing until the last moment.
"San Francisco is a city of very busy, very creative people," explained Chun Wong, Managing Director of Safe Harbor LLP. "With our specialization as a CPA firm for small businesses, startups, and many high income individuals, we still find that people procrastinate until the last possible moment to file their California and Federal taxes."
To read the informative blog post, please visit http://www.safeharborcpa.com/?p=3769
Tips for Procrastinators in the San Francisco Bay Area
Among the tips shared by Safe Harbor for last minute tax filers, two are very important. The first is to take action, today, no matter what the situation is. Even with a few weeks or days of lead time, the firm can usually help a tax filer to comply with federal and California laws. Indeed, the firm is an expert on IRS Audit defense, and can help with the filing of amended terms and other mechanisms to come into compliance with tax laws. Procrastinating and pretending that the problem does not exist is simply not helpful. Second, the firm is very committed to working with taxpayers over the long term. Many clients come to the firm because of its expertise in international tax, FBAR issues, IRS tax audits, and others, and – once the crisis has passed – stay on with the firm as a long-term client. The reason for this is because Safe Harbor LLP has a goal of making taxes and accounting as easy as possible for its clients, and so it works with clients year round on tax and financial planning.
The last minute rush, in sum, should be a one-time affair for any client. In subsequent years, it is is the firm's goal to help clients be prepared, so that when tax time comes, last minute filing is something that other people do, not long-term clients of San Francisco's favorite boutique CPA firm: Safe Harbor LLP.
About Safe Harbor LLP – a Professional CPA Firm in San Francisco
Safe Harbor LLP is a CPA firm that specializes in accounting and tax services for individuals and businesses throughout the San Francisco Bay Area and greater California. Safe Harbor CPAs helps both individuals and businesses with tax preparation, IRS audit defense, and audited financial statements. The firm prides itself on friendly yet professional service and utilizes state-of-the-art Internet technology to provide quality customer service.
Safe Harbor CPA
http://www.safeharborcpa.com
Tel. 415.742.4249