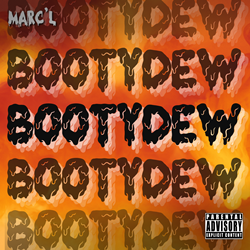 HOLLYWOOD, Calif. (PRWEB) November 08, 2022
Marc'L released his single, 'Bootydew' on October 28th, 2022.
Have you ever heard a song that moved you to the point where you wanted to tell all of your friends about it? Well, that's the type of feeling you will experience when listening to "Bootydew." It's written for those who need to realize their own self-worth before determining who can be worthy of their time in the future.
"The message behind the song is that if someone wants to come see what the booty does, then just know that I'm not taking any initial interest in you other than you coming to play with my booty. It's also about making sure you value yourself in order for you to know who you can give the booty to," said Marc'L.
To Stream/Download 'Bootydew' click here!
Marc'L (Marcus Ludgood) is a singer, songwriter, and dancer from Seattle, Washington who is taking more of an urban approach to Pop music. Marc'L has always had a strong passion for the arts, whether it's singing or dancing, or even creating for other artists within the industry. He pulls a lot of inspiration from artists he listened to from his childhood; such as the Spice Girls, Janet Jackson, Beyonce, and Nicki Minaj. Even newer artists from today like Tinashe, Normani, Jojo, Victoria Monet, and Ariana Grande give Marc'L a lot of drive to pursue his career and follow his heart. With his father passing away in June 2020, he promised himself that he would put 100% effort into following his dreams and hopes to build a fanbase of others who have the same mindset.
If you haven't already, make sure to stream/download 'Bootydew' by clicking here!
"Bootydew" has been distributed worldwide by KB Recording Group.
Marc'L always welcomes media inquiries, follow him on social media at:
Instagram: https://www.instagram.com/marcl.music
Twitter: https://twitter.com/marclmusic1