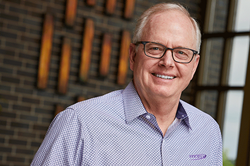 ST. CLOUD, Minn. (PRWEB) March 01, 2021
Jeff Gau will retire as CEO of Marco on March 31 and become chairman of the board. Gau joined the company in 1984 as a sales representative. He earned a series of leadership positions before becoming president and then CEO in 2003.
During his time at the helm, Gau has taken Marco from a mid-sized business technology provider to the largest of its kind in the United States and a company recognized for its performance and its people. He has been intentional about sustaining a fun workplace and being a good corporate citizen while growing the business.
Under his leadership, the company consistently achieved double-digit annual revenue growth and expanded from about 160 employees to nearly 1,200 at 54 locations from the Dakotas to the East Coast. Jeff has earned a series of awards over the years for his leadership in the industry and nationally.
Marco President Doug Albregts will become CEO on April 1. Albregts joined Marco in 2019 and brings leadership and industry experience as the former President and CEO of Sharp Electronics America and Group CEO of Scientific Games.
"I've known Doug for a long time and he's absolutely the right leader at the right time for Marco," Gau said. "He brings a valuable perspective from his prior roles and already has helped make us a better company. I am looking forward to how Marco will thrive under his leadership."
Marco is one of the top business technology providers in the country with offices in 12 states and serving customers nationally. Marco specializes in business IT services, copier and print solutions and managed and cloud services. Their technology experts break down complex solutions into simple terms to position your business for success. Learn more at marconet.com.