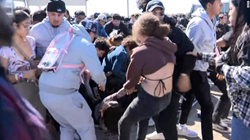 SAN ANTONIO (PRWEB) November 10, 2021
Texas Personal Injury Attorney, Marco Crawford, filed a lawsuit in Harris County, Cause # 202173354, against rapper Travis Scott, NRG Park, and others on behalf of several victims in connection with the mayhem and chaos that occurred at the 2021 AstroWorld Music Festival in Houston, Texas on November 5th, 2021.
Video footage and various reports confirm that when rappers Travis Scott and Drake appeared on stage, the crowds surged leading to many people suffering serious injuries and even death. Court documents, filed in the 157th District Court of Harris County, allege that "at no time, did any of the Defendants attempt to stop the show" as well as allege that the plaintiffs "were violently slammed against other concertgoers and were eventually crushed against a metal gate where they continued to gasp for air."
This lawsuit seeks the maximum monetary relief, over $1,000,000.00.
Source: Marco Crawford Law, PLLC. 157th District Court in Harris County, Cause #202173354
About Marco Crawford Law, PLLC.
Marco Crawford is an experienced litigator with a history of securing significant results for his clients. Marco Crawford Law, PLLC. handles all types of personal injury cases; in particular, motor vehicle crashes, tractor-trailer crashes, work injury accidents, and forklift/heavy equipment accidents. Marco has been recognized as one of the Best Attorneys in the Nation and in Texas by Best of The Bar. In 2020, Marco Crawford received one of the top jury verdicts in the nation. For more information visit http://www.marcocrawfordlaw.com.
Contact
Marco Crawford
Attorney at Law
210.756.5400
info@marcocrawfordlaw.com