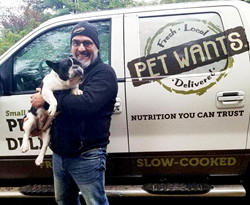 Pet Wants is fresh, nutritious, delivered and focused on ingredients. Pet Wants food and products are made with love – not by-products – and I'm passionate about offering them to the South West Michigan community. - Marco Di Pasquale
KALAMAZOO, Mich. (PRWEB) October 23, 2018
When Marco Di Pasquale was battling brain cancer, he got a dog to keep him company. He hadn't had a dog since he was a kid, but he quickly fell in love with Mio, a French Bulldog. However, as he was dealing with his own health challenges, Di Pasquale found himself also spending tens of thousands of dollars on Mio, who had everything from stomach issues to juvenile cataracts. But there was one thing Di Pasquale and Mio could do together to make them both feel better – eat healthier.
Now Di Pasquale is excited to help other pet families feed their pets fresh, healthy food with his new business – Pet Wants KzooWest.
Pet Wants' specially-crafted, proprietary pet food formulas are made in small batches with fresh, natural ingredients enhanced with vitamins and minerals for a complete and balanced diet in every bowl. Pet Wants KzooWest offers multiple blends of dog and cat food formulas as well as healing salve, calming balm, anti-itch spray, paw wax and more. Pet Wants KzooWest offers free, personal delivery to Southwest Michigan, including Kalamazoo, Portage, Schoolcraft, Mattawan, Paw Paw, Plainwell and the surrounding areas.
"When I was diagnosed with brain cancer in 2007, I consulted with a nutritionist who specialized in brain tumors. I learned so much about the importance of nutrition and the difference a good diet can have on our bodies. I saw the impact with Mio, my health-challenged French Bulldog, too. At 16 weeks when we got him, we soon discovered that Mio was not well. He had giardia and was allergic to everything. After spending thousands on allergy testing, various antibiotics, steroids, Apoquel and constantly changing of foods, we were able to get him solid bowel movements," Di Pasquale said.
"After I moved to Michigan, I decided to foster an 11-year-old dog named Missy. She had parasites, eye issues, ear infections and heartworm when she was found on the street. She had special needs with all her medications. She needed personal attention, patience and love due to incontinence, but I also discovered that she had an awful diet based on the cheapest kibble you could find. After switching her to Pet Wants and addressing her other needs, she was able to recover her dignity – she was all smiles and wagging tail. That's what I want for all pets and I'm proud to represent Pet Wants in this community," he added.
Pet Wants has a 100-percent, money-back guarantee on the freshness and quality of the food and the company only sources the best salmon, chicken, lamb, brown rice and other ingredients available. There's no sugar added, no fillers and no animal by-products and Pet Wants never uses corn, wheat, soy or dyes, which makes the food great for animals with allergies.
Di Pasquale was raised on the east coast and earned his information systems management degree from St. Joseph's University. He moved to Chicago for work, but after my divorce in 2017, he was ready for a change. He bought a farm in Michigan (where he's a beekeeper, gardener and food artisan) and decided to leave the corporate world behind. Pet Wants gives him the opportunity to work with animals and people in the community in a new, mission-focused way.
"After the eye-opening bout with cancer, corporate jobs were no longer fulfilling for me. I wanted to do more than sell software. I wanted to do something that had meaning and that I could pass on my knowledge and give back to the world. and, I realized Pet Wants was what I was looking for in my next endeavor. Pet Wants is fresh, nutritious, delivered and focused on ingredients. Pet Wants food and products are made with love – not by-products – and I'm passionate about offering them to the South West Michigan community," Di Pasquale said.
To learn more about Pet Wants KzooWest, call (269) 252- 4PAW (4729), email MarcoD@PetWants.com or visit http://www.PetWantsKzooWest.com.
About Pet Wants: Pet Wants was started by Michele Hobbs out of love for her pets and frustration. Veterinarians were unable to help relieve her dog's painful skin allergies. After doing much research, Michele discovered the national dog food brand she trusted was not fresh, not all natural, and lacked sufficient nutrition and – when pet food sits in warehouses and store shelves for months and months – it loses even more nutritional value. She was committed to developing a better solution for all dogs and cats. Their food is exclusively crafted. It's fresh, healthy and slow-cooked with no sugar added, no fillers and no animal by-products. They source only the best salmon, chicken, lamb, brown rice, and other ingredients. Fresh ingredients make for better food… and better health for pets. And since they never use corn, wheat, soy or dyes, the common pet health problems associated with these ingredients are no longer worries. Their fresh food is conveniently delivered to the customer within weeks of production, not months. Roughly half of Pet Wants products are sold through their store and half through their convenient, home-delivery program. You can learn more at http://www.PetWants.com.