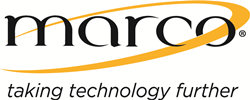 ST. CLOUD, Minn. (PRWEB) April 07, 2021
Marco announced today a series of executive promotions and the addition of Dawn Zimmerman as Executive Vice President and Chief Marketing Officer.
In this newly created role, Zimmerman oversees marketing and communications, learning and development, and the company's overall corporate strategy initiatives, brand and culture. She has been working with Marco in a consulting role since 2007. Zimmerman brings experience as a strategist and business owner to Marco.
Marco also promoted these current employees to new positions:

Trevor Akervik as Chief Strategy Officer, overseeing Human Resources and business strategies that promote growth and opportunities for the company's talent—today and into the future. Prior to this role, Akervik served as Vice President of Managed Services and was instrumental in building the company's managed practice. He joined Marco in 2001 as a sales professional and earned a series of leadership promotions.
Steve Gau as Chief Revenue Officer, overseeing the company's newly combined IT and copier sales divisions. Gau is a highly respected sales veteran in the technology industry. His sales leadership has helped Marco achieve consistently strong revenue and profit growth. Prior to this new role, Gau served as president of Marco's Copier Division.
Steve John as Chief Service Officer, leading pre-sales engineering and service teams for all of Marco's solutions. John brings three decades of technical experience to this new role. He previously served as Vice President of IT Services.
These leaders are part of Marco's executive team, who will lead the company through continued growth and expansion, as well as build on Marco's reputation as a destination workplace. To read the full bios, click here.
About Marco
Marco is one of the top business technology providers in the country with offices in 12 states and serving customers nationally. Marco specializes in business IT services, copier/printer solutions and managed and cloud services. Their technology experts break down complex solutions into simple terms to position your business for success.