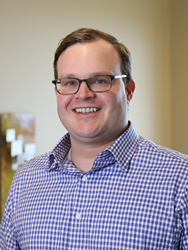 "His strong financial acumen compliments our executive team and will help drive our continued strong performance."
SAINT CLOUD, Minn. (PRWEB) November 21, 2019
Marco has a new leader of finance with the promotion of James Bainbridge to vice president of finance.
Bainbridge is an active CPA and has been with the company since 2017 as controller. He has an accounting degree from the University of Minnesota in the Twin Cities and a long history of finance experience at Milk Specialties Global and PricewaterhouseCoopers.
"James is a great fit in our organization," CEO Jeff Gau said. "His strong financial acumen compliments our executive team and will help drive our continued strong performance."
In his new role, Bainbridge will oversee all financial aspects of the company including financial planning and analysis, financial operations, accounting and billing. Bainbridge also serves on Marco's executive leadership team.
Marco is one of the largest technology providers in the country with 59 offices throughout the nation, over 1,400 employees and 36,000 customers nationwide. Marco specializes in business IT services, copier/printer solutions and managed and cloud services. Their technology experts break down complex solutions into simple terms to position your business for success. Learn more at http://www.marconet.com.