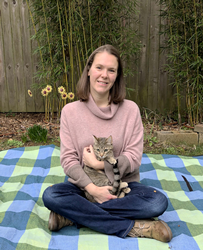 Finding the right pet food can be challenging, but once you find the best option for your individual pets, switching is easy. I'm excited to be in a position to help pets in my community by providing slow batch, high-quality, fresh food through Pet Wants. - Maren Hildum
PORTLAND, Ore. (PRWEB) April 07, 2020
Local mompreneur Maren Hildum is excited to announce the launch of her new nutrition-focused pet food and supplies business – Pet Wants Beaverton.
Pet Wants' specially-crafted, private-label pet food formulas are made in small batches with fresh, natural ingredients enhanced with vitamins and minerals for a complete and balanced diet in every bowl. Pet Wants Beaverton has multiple blends of dog and cat food formulas as well as healing salve, calming balm, anti-itch spray, paw wax and more.
Pet Wants Beaverton is a mobile business that offers free, personal delivery to West Portland, including Beaverton, Hillsboro, Tigard and the surrounding areas.
"People are increasingly concerned about their own health and the food they are eating, so it's the perfect time to talk about making sure our pets are getting the nutrition they need too. Finding the right pet food can be challenging, but once you find the best option for your individual pets, switching is easy. I'm excited to be in a position to help pets in my community by providing slow batch, high-quality, fresh food through Pet Wants," Hildum said.
Pet Wants has a money-back guarantee on the freshness and quality of the food and the company only sources the best salmon, chicken, lamb, brown rice and other ingredients available. There's no sugar added, no fillers and no animal by-products and Pet Wants never uses corn, wheat, soy or dyes, which makes the food great for animals with allergies.
Maren grew up in Hillsboro, went to Hillsboro High School and met her husband, Ryan, at Oregon State University. After college she started a career with Enterprise Rent-A-Car where she was promoted to the Operations team. Hildum left the corporate world to raise her family and has been involved in the local homeschooling community where she serves in local leadership with Classical Conversations. The Hildum family has one older cat and recently adopted two kittens from the Cat Adoption Team in Sherwood.
"When we switched our cats to Pet Wants' food, the difference was obvious, especially in our geriatric cat. We thought she was at the end of her life, but since switching to Pet Wants, she's eating consistently, she's gaining weight and her digestive issues have improved. Seeing the improvement in her quality of life – and thinking about my dog, Denai, who had skin and anxiety issues and has since passed away – I wondered if the other animals in my life could have benefitted from Pet Wants. That's what inspired me to be an advocate for pet nutrition and do what I can to improve the quality of life for our companion pets by opening Pet Wants Beaverton," Hildum said.
To learn more about Pet Wants Beaverton, call 971-404-5944, email MHildum@PetWants.com or visit http://www.PetWants.com/Beaverton.