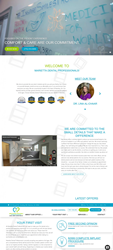 "It is such an honor to be recognized once again by Find Local Doctors. We are so proud to provide excellence in dentistry for our patients," says Dr. Dipesh Patel.
MARIETTA, Ga. (PRWEB) February 16, 2023
At Marietta Dental Professionals, the talented staff members are passionate about creating dream smiles in a responsible and conservative way. The clinic, conveniently located at 2551 Roswell Rd., Building 100 in Marietta, GA, is a state-of-the-art family dental practice. Offering the best, Marietta Dental Professionals was established with the mission of providing high-quality, modern dentistry in a comfortable, stress-free environment. Find Local Doctors has given this prestigious award to Marietta Dental Professionals as a result of the outstanding patient reviews and five-star ratings they have received from patients across multiple sources. Find Local Doctors is a trusted online directory that helps consumers easily locate reputable dentists and physicians in their area.
At Marietta Dental Professionals, they go to great lengths to ensure they are able to address all facets of a patient's smile through all stages of life. Patients can receive the dental care they need and deserve, ranging from preventative dental cleanings for kids to full-service dental implants for aging adults. The dentists at this clinic value the importance of building a relationship with the patients they treat and bring unrivaled skill and experience to a wide variety of dental procedures, including those in general, pediatric, cosmetic and restorative dentistry. The skilled dental team is qualified to offer a number of specialized treatments, such as smile makeovers, clear orthodontics, emergency dental care and more. To guarantee superior service, Marietta Dental Professionals has adopted the most advanced dental technology in the industry, including 3D imaging, intraoral scanners and superior in-office teeth whitening systems.
"It is such an honor to be recognized once again by Find Local Doctors. We are so proud to provide excellence in dentistry for our patients," says Dr. Dipesh Patel.
More about Marietta Dental Professionals:
Marietta Dental Professionals provides cutting-edge dental technology and relaxing amenities, keeping patients comfortable at every step in the treatment process. Dr. Dipesh Patel completed his undergraduate studies with honors at the University of Georgia before earning his doctorate from Nova Southeastern University College of Dental Medicine in 2012. To further solidify his education in dentistry, he has dedicated countless hours to completing continuing education courses to keep up with modern dentistry. Dr. Lina Al-Chaar received her dental doctorate from the University of Illinois at Chicago College of Dentistry. She was honored with multiple awards during her time at the dental school, including recognition for teaching dentistry, excellence in diagnosis and treatment planning, and in advocating for health literacy. Dr. Arti Patel completed her undergraduate studies at the University of Georgia and earned her doctorate from the Dental College of Georgia. Dr. Arti is a primary dental care provider for patients of all ages. She specializes in diagnosing, preventing, and treating diseases and conditions associated with overall dental and oral health. For more information about the services offered at Marietta Dental Professionals, please visit http://www.mariettadentalpros.com or call (770) 514-5055.