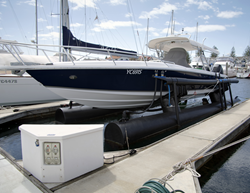 IRCM are able to offer a low-cost excess protection policy that can help marine traders offset the impact of higher excess in the event of a claim and other options may be open to traders in respect of flood cover
UK (PRWEB) August 22, 2014
As insurers continue totting up the costs of the winter floods that affected UK businesses in general and Marine Traders in particular they are already reviewing the scope of cover they are prepared to offer in the worst hit areas.
Mark Elcocks of specialist Marine Insurance broker IRCM said, "Whilst some people maintain that last winter's extreme weather was a 1-in-200 year event, insurers' climate models indicate that it is far likely to be a 1-in-6 or 1-in-8 year occurrence and underwriters are therefore reassessing their exposure. Typically we are seeing flood and storm excesses increased significantly along with the imposition of more stringent Stillage Warranties."
IRCM are able to offer a low-cost excess protection policy that can help marine traders offset the impact of higher excess in the event of a claim and other options may be open to traders in respect of flood cover. Mark went on to say, "Marine traders have traditionally managed their flood exposure but last winter's extremes simply overwhelmed a lot of businesses. Formalising risk management procedures could help not only minimize damage that could occur during storm and flood but also enable a specialist broker obtain better flood and storm terms from an insurer."
Marine traders can download Windstorm and Flood Checklists at http://www.marineinsurance-ircm.co.uk/about/marine-news-white-papers that suggests actions to should be taken before, during and after floods or windstorms.
IRCM is an independent Insurance broker that provides specialist insurance programmes to all areas of the Marine Sector as well as to private yacht owners. Further information about IRCM can be found at http://www.marineinsurance-ircm.co.uk/.