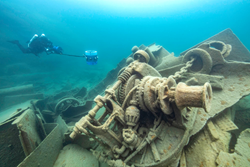 POCASSETT, Mass. (PRWEB) August 02, 2018
Marine Imaging Technologies (MITech), a revolutionary underwater optical imaging company, has revealed HYDRUS VR, their new 8k underwater cinematic virtual reality system. Created to push the envelope of underwater VR for the next generation of storytellers, HYDRUS VR incorporates the newest version of the famous SONY low-light camera, the UMC-S3CA, and custom SLR Magic E-Mount lenses to provide unparalleled dynamic range and clarity. While virtual reality as a storytelling method is on the verge of becoming mainstream, MITech's HYDRUS VR was designed to offer that same experience in an underwater environment, both for the audience and the storyteller.
"Cinematic VR is the next step in a continually evolving artistic struggle to not just show people unique underwater landscapes and the stories within them, but to also immerse and transport them in a way that captures their imaginations and senses on all levels," says Evan Kovacs, founder of MITech. "As passionate fans of cinema, we couldn't be more excited about the possibilities that HYDRUS VR holds for creating immersive stories about and all aspects of our underwater world."
HYDRUS VR was over two years in the making. Conceived and designed in 2016, the prototype was built in the Cape Cod facilities in 2017. After discussions with SONY, the camera array was redesigned to facilitate the soon to be released SONY UMC S3CA, their popular UMC cinema camera with their newest low light sensor. By March of 2018, production partner Digital Quilt was stitching test footage of reefs off the Cayman Island and HYDRUS VR has just returned from the Isle Royale in the Great Lakes.
HYDRUS VR was designed to be simple and intuitive, allowing the storyteller to focus on the subject and the story. It can be diver operated, but with a depth rating of 300m, it can be incorporated onto underwater robots as well. Some features include:

8-12K stitched spherical and 3D resolution
A custom control system for camera presets, on-the-fly exposure control, and a visual sync point for all cameras.
Real time monitoring of the primary camera or multiple cameras.
Visual and audio alarms for vacuum loss and water intrusion.
"We are very excited to help tell interesting stories and work with our partners to create an unforgettable experience, an experience that will make audiences feel inspired to cherish, save and protect -- and even one day visit -- these underwater environments," says Kovacs.
About Marine Imagine Technologies
MITech specializes in underwater optical imaging systems, data acquisition and processing, and expedition consulting for the scientific, commercial, government and documentary communities. Besides committing to the highest quality imagery and staying within budget, our clients will always be treated with respect and given the time and answers they deserve. Whether a novice or seasoned professional, MITech can help with the project planning, execution and post processing.
# # #