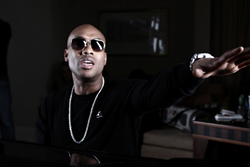 We are all very excited about engaging with new and established creatives from around the world, to share our knowledge and experiences.
LONDON (PRWEB) February 15, 2021
Grammy award-winning producer and R&B artist Mario Winans, best known for his work with Sean 'Diddy' Combs and Bad Boy Records, has announced the launch of Artime, an online music mentoring platform.
The new platform gives independent artists, students and aspiring creatives the opportunity to book online mentoring sessions with multi-platinum, award winning producers, songwriters, music directors and engineers.
Some of the heavyweights assembled by Winans to mentor on the Artime platform include his fellow members of the legendary Bad Boy Hitmen production team: Stevie J, Ron "Amen Ra" Lawrence, Deric "D-Dot" Angelettie, Chucky Thompson, Nashiem Myrick and Amadeus Thompson. A powerhouse of R&B, Rap and Pop, the Bad Boy Hitmen produced iconic hits for some of the biggest names in music such as Mariah Carey, Mary J Blige, Jennifer Lopez and many more.
Winans, who is Founder & CEO of the Artime platform, has spent the last three decades crafting hits for the likes of Kanye West, Janet Jackson, Jay-Z, Jennifer Lopez, Aretha Franklin, Jamie Foxx, Mary J. Blige, Whitney Houston, Brian McKnight, The Notorious B.I.G., Diddy, and of course, his own Winans family. Now, with the launch of the Artime platform, Winans is offering his time and knowledge to mentor a new generation of independent artists, producers and writers.
Also available for mentoring bookings on the Artime platform is the legendary rap producer Large Professor, who has lent his hand to albums by some of rap's biggest names, including Eric B. & Rakim, Kool G Rap, Nas, and Pete Rock & C.L. Smooth.
Anyone interested in booking time with a mentor can register on the Artime platform to browse a curated list of multi-platinum producers, engineers, songwriters and music directors, handpicked by Winans for their award winning experience and talent. Users can pay a flat fee for a live introductory session with their selected mentors before arranging regular sessions on the platform.
Other notable mentors on Artime include: Bink! who produced several tracks on Jay-Z's 'Blueprint' album and went on to produce 'Devil in a New Dress' for Kanye West and 'Santorini Greece' for Rick Ross. Om'Mas Keith who won a Grammy for his work on Frank Ocean's 'Channel Orange' and has worked with the likes of Anderson .Paak, Erykah Badu and John Legend.
"Collectively this group of 'Creative Masters' have helped to shape the landscape of R&B, Rap and Pop over the last 30 years", says Winans, "We are all very excited about engaging with new and established creatives from around the world, to share our knowledge and experiences."
Visit http://www.artime.io for more information and to get signed up.