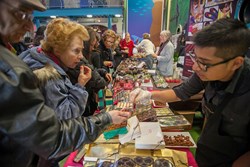 This unique event takes The Maritime Aquarium, already one of the best places for family fun in Connecticut, and fills it with dozens of fine chocolatiers.–– Chris Loynd,Maritime Aquarium marketing director
Norwalk, CT (PRWEB) January 16, 2014
Less than three weeks before Valentine's Day, thousands of Connecticut's chocolate lovers will be able to shop for gourmet sweets and unique treats on Sun., Jan. 26 when Chocolate World Expo once again takes over The Maritime Aquarium at Norwalk.
About 35 local and regional vendors will offer samples and sales of their delicious and decadent chocolates, baked goods, gelato and specialty foods. Vendors will be set up throughout the Aquarium's galleries, which will be fully open that day – at a lower cost than normal – making the event an outstanding family value.
"This unique event takes The Maritime Aquarium, already one of the best places for family fun in Connecticut, and fills it with dozens of fine chocolatiers," said Chris Loynd, the Aquarium's marketing director. "Next we fold in free cooking demonstrations by celebrity chefs Barret Beyer and Lawrence Rosenberg. Then we bake your noodle with free shows by mentalist Marc Salem. Finally, we serve it all up for a 25 percent discount on regular Aquarium admission. You'd have to be dipped in nuts not to come."
Expo/Aquarium visitors will find not only traditional and gourmet chocolates, but also unique offerings like chocolate tarts, chocolate-covered pretzels, chocolate balsamic dressing, chocolate-covered bacon and even chocolate-scented bath soaps.
Expo producer Marvin Baum said Chocolate World Expo is for people who are serious about chocolate and who love unique specialty foods.
"Vendors at the Expo typically offer small tasting-sized portions of their products," Baum said. "Think of the chocolate tastings in the way you might think of a wine tasting at a winery: you get a small sample to try and you often get to talk with the person who made the product. If you like what you've tasted, you can purchase that product for yourself or to give as gifts."
For ready-to-eat treats, Aurora Gourmet will have their chocolate fountains flowing, while Bonjour Creperie will be making chocolate crepes and Pika's Farm Table will serve authentic Belgian-style waffles dipped in a choice of white, dark or milk chocolate.
But Chocolate World Expo isn't entirely about chocolate. Vendors also will present baked goods, specialty foods, cheeses, gelato and even fine soaps and bath products.
Cooking demonstrations using chocolate will be led by celebrity chef Barret Beyer (Fox TV's "Hell's Kitchen") at noon, 2, 4 & 6 p.m.; and by executive chef Lawrence Rosenberg, recipe-book author and owner of Bacon Bites, at 1, 3 & 5 p.m.
Plus, in place of the Aquarium's regular daily IMAX® movies, Chocolate World Expo instead will present five free 40-minute shows by "mentalist" Marc Salem in the IMAX Theater. An expert on non-verbal communication, Salem has been astounding audiences for decades – and also Mike Wallace in a "60 Minutes" segment – with his seeming ability to read minds and perform mental magic. Salem's shows will be at 10:30 a.m., noon and 1:30, 3 & 4:30 p.m. Seating is strictly limited to 300 seats per show. Audiences will be seated on a first-come, first-served basis.
All of The Maritime Aquarium exhibits will be open during the Expo – and will stay open two hours longer than normal: from 10 a.m. to 7 p.m.
"Coming so closely to Valentine's Day, it's a perfect opportunity to buy some sweets for your sweet," Loynd said. "Plus, with the Expo occurring on the Sunday when the NFL doesn't have any games, there's no reason for anyone to stay home."
Special ticket prices on Jan. 26 are just $15 for adults and $10 for kids 3-12. These prices include Chocolate World Expo admission, all Maritime Aquarium exhibits, the cooking demonstrations and Marc Salem mentalist shows. Aquarium members save $2 per ticket.
For more information about Chocolate World Expo and to purchase tickets, go to http://www.chocolateworldexpo.com or http://www.maritimeaquarium.org.