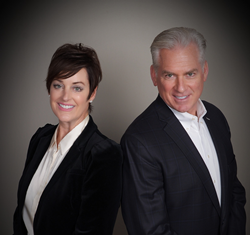 When we found Caring Transitions, we realized this was a great opportunity to provide a much-needed service to the community and a means to building a philanthropic platform to support the communities we serve. - Mark Gates
WOODBURY, Minn. (PRWEB) January 04, 2021
Born-and-raised Twin Cities locals Shawn and Mark Gates are pleased to announce their new business, Caring Transitions – Twin Cities East.
Caring Transitions is the professional and compassionate choice for senior moves, downsizing and in-home & online estate sales. Caring Transitions' specially trained professionals handle every detail of their clients' transition including decluttering, cleanouts, packing, move management, unpacking, resettling into your new home with both in-home and online estate sales of a family's household items and valuables, along with selling the house.
This new locally-owned and operated company will serve seniors and families in the eastern suburbs of the Twin Cities as well as the surrounding areas.
"Caring Transitions brings extraordinary value and comfort to every family and individual during life's many transitions. Our mission is to provide best-in-class solutions with uncompromising honesty and integrity in everything we do," Shawn said. "At the heart of it, we are here to take the stress out of the equation so seniors and families can focus on the next step in their journey."
Caring Transitions' services are perfect for managing the many aspects of a senior move, including assisting with the process of downsizing to provide a safer living situation, as well as for busy families and people clearing out the home of a loved one who has moved into assisted care or passed away. All of Caring Transitions' services are customizable, so clients choose the solution that best fits their needs.
Mark has more than 32 years of business leadership experience with 3M Company. He has led large global organizations in the Industrial Markets, Automotive, Aerospace, Traffic Safety and Health Care industries. Shawn has more than 20 years of customer service and supervisory experience. She has worked in commercial and corporate aviation as well as in logistics-heavy corporate travel management.
"When I retired, I knew I wanted to do something Shawn and I could do together, but I wasn't sure exactly what. When we found Caring Transitions, we realized this was a great opportunity to provide a much-needed service to the community and a means to building a philanthropic platform to support the communities we serve. We are excited to build Caring Transitions – Twin Cities East, from right here in our hometown," Mark said.
Caring Transitions – Twin Cities East is bonded and insured, and all employees are background checked. For additional information, call 612-405-6729, email ShawnGates@CaringTransitions.com or visit http://www.CaringTransitionsTCEast.com.