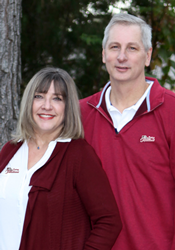 I understand the stress of dealing with a transition, especially when you're grieving a loss or a navigating a major change. Caring Transitions can step back, see the whole picture, create a customized plan and then help put those puzzle pieces together for you. - Mark Piatt
JONESBORO, Ark. (PRWEB) January 05, 2021
Mark and Tara Piatt are pleased to announce the launch of their new senior and family-focused business, Caring Transitions of Jonesboro.
Caring Transitions is the professional and compassionate choice for senior moves, downsizing and estate sales. Caring Transitions' specially-trained professionals handle every detail of their clients' transitions, including decluttering, organizing, packing, move management, unpacking and resettling, cleanouts, and both in-home and online estate sales. The Piatt's team works in Jonesboro, Paragould, Pocahontas, Walnut Ridge, Corning, Piggott, Rector, Trumann and the surrounding areas.
"I always knew I wanted to do something with estate sales and I thought maybe it would be after I retired. When COVID-19 ravaged my company last April, I decided it was time to fast-track that dream," Mark said. "I understand the stress of dealing with a transition, especially when you're grieving a loss or a navigating a major change. Caring Transitions can step back, see the whole picture, create a customized plan and then help put those puzzle pieces together for you. We can lead you from Point A to Point B so you can spend time with your loved ones."
Caring Transitions' services are perfect for managing the many aspects of a senior move, including assisting with the process of downsizing to provide a safer living situation, as well as for busy families and people clearing out the home of a loved one who has moved into assisted care or passed away. All of Caring Transitions' services are customizable, so clients choose the solution that best fits their needs.
Mark is a veteran who served as an officer in the United States Air Force for eight years during Desert Shield and Desert Storm. He worked a corporate job for more than 20 years before launching Caring Transitions. He's also a member of the American Numismatic Association and has helped with estate sales, auctions and appraisals of coins and other currency.
Mark and Tara been active members of the community for 22 years and have volunteered with multiple service clubs and organizations. Mark was a member of the inaugural class of Leadership Arkansas and Tara was a member of Junior Auxiliary of Paragould, serving as PR Chairman for six years. He and Tara have been married for 33 years and they have three grown children – Ellyn, who lives in Little Rock, Will, who lives in Conway, and Luke, who is attending the University of Arkansas in Fayetteville.
For Mark and Tara, Caring Transitions is as much about supporting their community and making a difference for families in their region as it is about owning their own business.
"When my stepfather passed away, my mom was left with more stuff than she could handle alone. I went to visit her in Cincinnati over the summer – and we were still going through his things – and that's when I found Caring Transitions. First I saw four ads for their online auctions and, as I did my research, I realized that the end-to-end solution Caring Transitions can offer to clients was something my community could use and I'd enjoy. Caring Transitions allows us to make a real difference for people here in the Jonesboro area," Mark said.
Caring Transitions of Jonesboro is bonded and insured and all employees are background checked. For additional information, call 870-476-4749, email MPiatt@CaringTransitions.com or visit http://www.CaringTransitionsJonesboro.com.