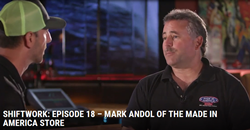 That's where things changed. I had 70 employees, 18 family members, and 3 guys I went to kindergarten with, but I had to lay off 40 of them when the recession hit in 2010 - That was gut-wrenching. That was where the Made In America Store was born.
BUFFALO, N.Y. (PRWEB) January 14, 2020
For Immediate Release
Anthony M Falbo
716-652-0024
TFalboJr@MadeInAmericaStore.com
Buffalo, New York's own Mark Andol, founder and CEO of the Made In America Store and General Welding & Fabricating, gets featured on WYRK's "Shiftwork" - A show that features influential entrepreneurs contributing to Buffalo's resurgence.
Western New York has seen a resurgence in the past decade, and it's largely due to the influential entrepreneurs who helped build the community. To help recognize these effort, Buffalo local radio station Country 106.5 WYRK decided to give the spotlight to some of the business owners to talk about their start, and what they're doing for the community.
Mark Andol, founder & CEO of the Made In America Store, was recently featured on Country 106.5 WYRK's new featurette, Shiftwork. Clay Moden, host of Shiftwork, went through Mark's upbringing, his steel fabrication plant, his major loss to China, and the inevitable opening of the first 100% USA made products store.
Catch the Shiftwork interview with Mark Andol here!
Each month Clay Moden and WYRK will highlight a different entrepreneur in the Buffalo, New York, area.
BOILERPLATE:
Established in 2010, the Made In America Store is the nation's only 100% U.S.A. made department store. With more than 9,000 products from 500+ manufacturers, the Made In America Store is dedicated to creating and saving jobs in the United States of America by increasing U.S. manufacturing for our children's future. For more information, visit the Made In America Store's website https://madeinamericastore.com/