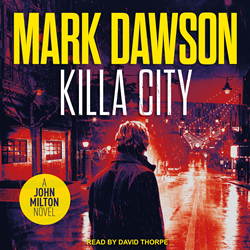 Mark is a self-publishing success story and his books now sell millions globally.
OLD SAYBROOK, Conn. (PRWEB) September 15, 2020
W.F. Howes Ltd, the UK's leading independent audiobook publisher, and US-based sister company, Tantor Media, have jointly acquired exclusive world English language audio rights to Mark Dawson's next four books, including three new titles in the multimillion eBook-selling John Milton series and an espionage thriller based on the Chernobyl disaster. The rights were acquired directly from the author with American and Canadian territories handled by Tantor Media, and the remaining territories, including the United Kingdom, handled by W.F. Howes. Both W.F. Howes and Tantor Media are publishing brands of RBmedia.
The first audiobook, due to be published 15th October 2020, is number 17 in the John Milton series and follows Milton—the man the British government calls on to eliminate the worst of the worst—as he travels to Kansas City in an attempt to gain information about the resurrection of a secretive group of assassins. While there, he finds himself helping a young boy and his mother who have become entangled with two competing local gangsters as Milton continues his struggle to find redemption from his past.
Mark Dawson, who already has a large audience for his eBooks and audiobooks, commented: "The decision to work with W.F. Howes and Tantor Media expands my readership significantly through their multi-channel reach and enthusiastic audio marketing expertise. I can't wait to get started and reveal the new audiobooks to my readers and listeners."
Dominic White, Head of Publishing at W.F. Howes, commented: "Mark is a self-publishing success story and his books now sell millions globally. We're excited to be working with him creatively on every aspect of the campaign and helping him reach an even greater audience through the explosively growing audiobook market."
…Ends…
For media enquires in US/CA, contact CMcNeil@tantor.com
For all other media enquiries, contact julian.holmes@wfhowes.co.uk
About W.F. Howes
W.F. Howes Ltd, an RBmedia company, is the UK's leading audiobook, digital services, and large-print publisher, releasing about 80 new unabridged audiobooks every month. The company distributes its audiobooks extensively to the UK retail market and directly through Audiobooks.co.uk. For more information visit http://www.wfhowes.co.uk or email info@wfhowes.co.uk.
About Tantor
Tantor Media is a leading audiobook publisher with nearly two decades of success in producing the highest quality audiobooks for the retail and library markets. Combining must-have authors and award-winning titles with over 400 of the industry's top narrators, Tantor produces more than 250 new titles every month. Tantor is the recipient of numerous Audie Awards, AudioFile Earphones Awards, and starred audio reviews. For more information visit http://www.tantor.com
About RBmedia
RBmedia is a global leader in spoken audio content and digital media distribution technology that reaches millions of consumers—at home, in the car, and wherever their mobile devices take them. RBmedia produces exclusive titles and delivers the finest digital content. Headquartered in Landover, Maryland, RBmedia comprises an ever-expanding group of the best publishing brands in spoken audio content. RBmedia is owned by KKR, a leading global investment firm. Find out more at http://www.rbmediaglobal.com.