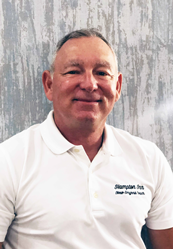 "We are privileged to have someone of Mark's caliber and industry experience leading the team, and we are confident that he will continue to carry the Hampton by Hilton spirit through every facet of his position," said Farrah Adams, COO of LBA Hospitality.
NEW SMYRNA BEACH, Fla. (PRWEB) August 28, 2020
At the Hampton Inn New Smyrna Beach (214 Flagler Avenue), General Manager, Mark Plebanski has made providing exceptional experiences for guests his top priority. Mark joined the team of the 112-room hotel, owned by Key International and managed by LBA Hospitality, in September of 2019.
Plebanski, a hospitality veteran of over 30 years, leads the team in all aspects of hotel operations, from hotel administration to guest service and satisfaction. In recent months, his role has expanded beyond practicing Hamptonality - Hampton by Hilton's unique and unmatched approach to hospitality, to implementing Hilton's CleanStay Initiative, ensuring the health & safety of every team member and guest. Leading by example, Plebanski works alongside his team sanitizing all areas of the hotel, ensuring all PPE protocols are followed, and keeping guest health & safety at the forefront of all operations.
"We want our guests to feel safe and be confident in their decision to stay with us." Plebanski stated.
The fully renovated Hampton Inn, conveniently located on historic Flagler Avenue, is a leader in the New Smyrna Beach market, providing unmatched comfort and service to business and leisure travelers. Walking distance to white sandy beaches and the city's thriving business district, the Hampton Inn New Smyrna Beach offers a range of amenities, including complimentary breakfast, a sparkling outdoor pool and free Wi-Fi. Hotel guests admire the unique architecture and charming interiors of the hotel, atypical of the Hampton Inn brand, which align perfectly with the historic and picturesque coastal city of New Smyrna Beach.
"We are privileged to have someone of Mark's caliber and industry experience leading the team, and we are confident that he will continue to carry the Hampton by Hilton spirit through every facet of his position," said Farrah Adams, COO of LBA Hospitality.
"I am beyond proud to be able to lead the phenomenal team at Hampton Inn New Smyrna Beach," said Plebanski. "Our associates are like family, and we want our guests to feel like they are part of the family as well."
Prior to joining Hampton Inn New Smyrna Beach, Plebanski spent most of his time in operations for Hampton and Homewood properties. His exceptional leadership has resulted in many awards over the years – Hampton by Hilton Lighthouse and Circle of Excellence Awards, as well as 2017 GM of the Year, to name a few. In addition to his tenure in hospitality operations, Plebanski spent 10 years as a fireman in Lake County, Florida, keeping in line with Hilton's overall service culture, philanthropic principles, and dedication to community health & safety.
Hampton Inn New Smyrna Beach is part of Hilton Honors, the award-winning guest loyalty program for Hilton's 18 world-class brands comprising more than 6,100 properties in 118 countries and territories. Hilton Honors members who book directly through preferred Hilton channels have access to instant benefits, including a flexible payment slider that allows members to choose nearly any combination of Points and money to book a stay, an exclusive member discount, and free Standard WiFi. Members also enjoy popular digital tools available exclusively through the industry-leading Hilton Honors mobile app where Hilton Honors members can check-in, choose their room and access their room using Digital Key. Hilton Honors offers its more than 106 million members hundreds of ways to earn and redeem Points. Members can redeem their Points for free nights, premium merchandise and items on Amazon Shop with Points, and make charitable contributions. The program is free to join, and travelers may enroll online by visiting http://www.hiltonhonors.com. Connect with Hilton Honors at newsroom.hilton.com/hiltonhonors, and follow Hilton Honors on Facebook, Twitter, and Instagram.
For more information or to make reservations, visit http://www.newsmyrnabeach.hamptoninn.com or call +1 386-898-9444.
Read more about Hampton by Hilton at http://www.hampton.com and newsroom.hilton.com/hampton.
###
About Key International
Key International is a world-class real estate investment and development company that has been influential throughout South Florida since the 1970s. With offices in Miami, Florida and Madrid, Spain, the company focuses primarily on the luxury commercial and residential sectors, including condominiums, hotels & resorts, apartments, offices, and retail properties. Key International's high-profile projects include the development of
such sought-after addresses as 400 Sunny Isles, 1010 Brickell, the landmark Mint and The Ivy towers in
Downtown Miami, along with the master development of the Riverfront Community district of Miami and the
$250 million expansion and restoration of the world-famous Eden Roc Resort Miami Beach. Key International
also owns and manages a diverse collection of hotels within the Marriott, Hilton and InterContinental Hotels
Group brands. For more information, visit http://www.key-international.com.
About LBA Hospitality
Established in 1973, LBA Hospitality is one of the leading hotel management, development and consulting companies in the US. With an extensive portfolio of hotels located in the Southeast and Southwest, the Company is a recognized leader developing and operating the most respected brands under franchise licenses of Marriott International, Hilton Worldwide and InterContinental Hotel Group. For more than four decades, LBA Hospitality has continued to set a higher standard in hotel development, management and guest satisfaction, resulting in sustained, profitable growth for owners. For more information, visit http://www.lbahospitality.com.