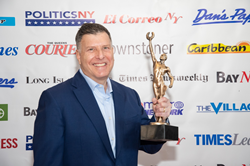 NEW YORK (PRWEB) April 19, 2021
Mark S. Weprin, a Government Law & Policy shareholder in global law firm Greenberg Traurig, LLP's New York office was recognized as a 2021 Power Lawyer by Schneps Media.
"Power Lawyers recognizes the achievements and contributions of outstanding individuals of the legal industry who have created a significant impact in their fields."
Weprin represents clients in legislative and regulatory matters at various levels of government, with a focus on the New York real estate industry and important corporate and not-for-profit organizations. Before joining the firm, Weprin served as Deputy Secretary of Legislative Affairs for New York State Governor Andrew Cuomo. Prior to working with the New York governor's office, Weprin served as a member of the New York City Council where he chaired the Land Use Committee Sub-Committee on Zoning and Franchises. In addition, he also was chair of the Queens City Council Delegation. Before his election to the New York City Council, Weprin served 15 years in the New York State Assembly where he authored 63 laws and served as chair of the Small Business Committee.
About Greenberg Traurig, LLP: Greenberg Traurig, LLP (GT) has approximately 2200 attorneys in 40 locations in the United States, Latin America, Europe, Asia, and the Middle East. GT has been recognized for its philanthropic giving, diversity, and innovation, and is consistently among the largest firms in the U.S. on the Law360 400 and among the Top 20 on the Am Law Global 100. The firm is net carbon neutral with respect to its office energy usage and Mansfield Rule 3.0 Certified. Web: http://www.gtlaw.com