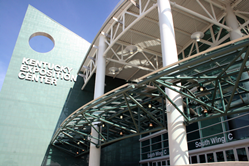 "While the trade show circuit has been quiet since early 2020, industry development has continued in an impressive fashion, from home design to materials, not to mention progress in community lifestyle, and then there's the multiple cycles of new products and services to catch up on."
LOUISVILLE, Ky. (PRWEB) May 19, 2021
Save the dates JAN. 19 - 21, 2022 for The Louisville Manufactured Housing Show, the Midwest's premier event for manufactured housing professionals, in Louisville, Ky., at the Kentucky Exposition Center South Wing.
For more than 60 years, The Louisville Show has brought together the latest manufactured home designs, tech specialists and a top network of suppliers in the manufactured housing industry. In 2020, The Louisville Show attracted a near-record 3,536 attendees from 1,130 companies.
"Manufactured housing professionals are eager to get out to see the latest trends and opportunities in the industry after missing more than a year of this kind of interaction," Louisville Show Chairman Byron Stroud said. "While the trade show circuit has been quiet since early 2020, industry development has continued in an impressive fashion, from home design to materials, not to mention progress in community lifestyle, and then there's the multiple cycles of new products and services to catch up on."
Additionally, The Louisville Show offers an array of educational and networking opportunities, all at a convenient location near the airport and across the street from the host hotel.
"Louisville exhibitors display products and services at the KEC, where qualified industry buyers come for ideas and inspiration," Show Coordinator Trisha Le said. "And January is an optimal time to understand customer wants and needs as they prepare for the spring selling season."
Exhibitor Opportunities Open Soon
Exhibit space will sell fast, so join The Louisville Show mailing list to keep up on the latest event news including reminders on deadlines for exhibit entry, sponsorship, registration, and activities.
For 2022, The Louisville Show will operate with a new floor plan that places supplier exhibitors in a more central location among the manufacturer exhibitors.
"We believe the layout with service and supply professionals set up within greater proximity to all of the homes will increase attendee access and traffic flow more evenly through the show," Le said.
General registration details for Louisville 2022 will be announced in the coming months.
Each year, The Louisville Show is organized and presented by The Midwest Manufactured Housing Federation, which represents the states of Kentucky, Indiana, Ohio, Michigan, and Illinois.
As an industry trade event, the 2022 Louisville Show is not open to the public. For more information, visit The Louisville Show website at http://www.thelouisvilleshow.com.
The Midwest Manufactured Housing Federation
The Midwest Manufactured Housing Federation is a trade-association dedicated to the promotion and advancement of the manufactured housing industry throughout Illinois, Indiana, Kentucky, Michigan and Ohio. The Federation holds the Louisville Manufactured Housing Show annually in Louisville, Kentucky.