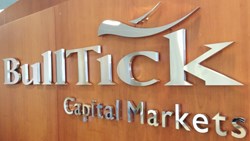 We are proud of the efforts of and the results produced by our Research Team as they provide real time value added market strategy that our clients appreciate. - Adolfo del Cueto, CEO Bulltick Capital Markets
Miami, Florida (PRWEB) August 22, 2013
The head of Research and Managing Director at Bulltick, Alberto Bernal, appeared in several forms of media over the past week, ranging from live television to print media, to internet video, delivering his analysis to clients and to the general public and representing the face of Bulltick Capital Markets. In an appearance on CNN Dinero on August 14th, Alberto gave his views on national pension funds–should they be more conservative? Watch his live, primetime appearance broadcast throughout the US and Latin America here.
Alberto published his column in the highly reputable Mexican periodical, Alto Nivel, commenting on the Federal Reserve policy and its potential impact on the global markets and economy. Entitled OCURRIÓ COMO EN 1994…, you can read this piece in Spanish here.
Alberto also wrote a column for DesdeWallStreet.com published August 16th entitled La Reforma energética en México, which can be read here.
Last week, Alberto appeared on Desde Wall Street, an internet-broadcasted program that appears in virtually all of Latin America's major online newspapers. In the four-part segment, Alberto discussed his macroeconomic and investment strategy views on the US and the Fed tapering, Europe, Japan, and China. Please watch his appearance here.
Last week, Bulltick Research published six separate macroeconomic research and investment strategy pieces, including five daily analyses and a separate analysis Argentina's primary elections results. Our Research Team analyzed a variety of market themes including Federal Reserve policy and potential action, US economic data for the week and its relevance to the Fed's near term decisions, Brazil inflation and economic trends, Mexican energy policy and reform, Chilean monetary policy, Peruvian economic activity, Colombian industrial production. Alberto penned the piece entitled "ARGENTINA UPDATE--A Sunday to Forget for President Cristina Fernandez de Kirchner". Clients can log in to read this research piece here.
This week, the Bulltick Research Team will hold their monthly strategy conference call, entitled "Federal Reserve Policy and Outlook for the Markets" on Thursday, August 22nd at 10:00am and again at 11:00am in Spanish.
On August 14th, our Team analyzed the potential composition of the 2014 voting FOMC, with Kathryn Rooney Vera commenting on the turn-over potential and possibility of these changes impacting monetary policy to the more hawkish or more dovish side. Kathryn wrote on the Brazilian markets' massive underperformance across the spectrum of asset classes from local and hard currency bonds, to equity markets, to foreign exchange and the impact the Real's more than 17% depreciation year-to-date could have on both inflation and monetary policy.
Kathryn commented to the Chilean periodical El Cronista on the Brazilian difficulty noting that the authorities are likely to continue to intervene when the BRL moves wildly to the weak side as it did today, with the BRL hitting a multi-year low of 2.4282 v. the USD; the worst rate since March of 2009.
About Bulltick Capital Markets
Bulltick Capital Markets Holdings, LLC, through its subsidiaries, is a securities brokerage, asset management and investment banking firm that provides its clients with diversified financial products by leveraging its Latin American roots and international expertise. We offer insight, opportunities, and top execution services to financial institutions and qualified investors.
Headquartered in Miami, Florida with offices in Mexico City and Bogota, we are optimally positioned to serve the needs of Latin American and other clients seeking access to and expertise in US and global securities markets. We maintain our local roots, insight and networks within Latin America for the benefit of our clients. We offer our clients the personal service and flexibility of boutique firms along with the financial capabilities of larger institutions. We deliver services through five business lines: Sales and Trading, Full Service Brokerage, Wealth Management, Investment Banking, Research.