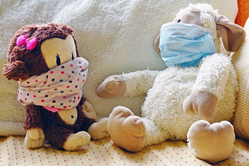 GREENSBORO, N.C. (PRWEB) August 13, 2020
Kids do some pretty gross things. Yes, they're adorable and innocent and we want to do everything to protect them, but they also seem to lack that instinct that tells you to not do things like eat the lollipop you just dropped in the parking lot. Instances like that leave us a little concerned, mostly for their health. It also makes us wonder if we're doing everything we can to make sure their immune system is in tip-top shape.
In recent years, there's been much talk among the public and health practitioners alike about immune systems and immune health. There is a great deal of information available about immunity, not all of it reliable. Parents are often bombarded with an overwhelming amount of rhetoric on products and supplements their kids should be taking but are often left on their own to sort out why each vitamin or supplement is important. Market America | SHOP.COM is here to break down the basics of immune health and provide you with some insights on how to make sure your kids are supporting their immune systems. We also will provide some helpful information on alternative supplements that will ensure your little ones, especially the picky eaters, are getting the nutrients they need to support their immune systems.
So, instead of just listing a bunch of products we think your kids should take to help support their immune systems and leaving it at that, we are going to break down why each of these vitamins and supplements are important to kids' immune systems, as well as how they work. Not only that, Market America's Director of nutraMetrix® and Clinical Education, Dr. Deedra Mason, will reveal why these five types of vitamins and supplements may help support your child's immune system!
Vitamins C & D*: Did you know that our bodies don't produce vitamin C? We have to obtain it through diet and supplements. As far as your child's immune health, vitamin C is important because it is an antioxidant that fights free radicals as well as supports normal healing and protects against the effects of stress. We obtain vitamin D mainly through exposure to sunlight and, as Dr. Mason points out, in the winter we struggle to get enough sun exposure. This affects our vitamin D levels, which can impact how vitamin D can support optimal immune functions. DNA Miracles® Vitamin C + D3 Chews contain both of these essential vitamins and are made for kids!**
Probiotics*: The gut, or gastrointestinal tract (GI tract), is one of the most essential parts of the immune system. Dr. Mason says that "optimal GI function tends to be the unsung hero of the immune system" and "gut microflora has been linked to numerous benefits in overall health, including optimal immune function." Other than a balanced diet, one of the best ways to ensure your kid's gut is in tip-top shape is through probiotics. In short, probiotics help balance the gut through providing strains of good bacteria that help fight off bad bacteria and keep your gut balanced. DNA Miracles Chewable Probiotics actually contains a strain of probiotic, Lactobacillus rhamnosus, that aids in balancing the gastrointestinal microflora and has also been shown to support immune function. Unlike some children's probiotics, DNA Miracles Chewable Probiotics also supports a healthy GI tract, promotes stomach comfort and supports oral health. **Check out the full list of benefits on the product page.
Another option is DNA Miracles Flora Melts. Instead of a chewable tablet, this product comes in powder form and delivers both probiotic and prebiotic support for digestive and immune health. Flora Melts come in a fruit punch flavor that can be mixed with water, dissolved on the tongue or even sprinkled into your child's applesauce or yogurt!**
Wellmune®* is a natural yeast beta glucan that is derived from a proprietary strain of yeast called Saccharomyces cerevisiae. Wellmune is a natural ingredient that is safe for kids and works to support immune cells. As Dr. Mason explained, clinical studies have shown that it promotes a healthy immune system in a few ways.
First, when ingested, Wellmune gets digested into smaller fragments. These fragments are slowly released over a number of days and bind to receptors on neutrophils, the most abundant immune cells in the body. The fragments thus support the activity of the neutrophils, promoting immune health. Wellmune also supports the activity of phagocytic cells, which engulf and destroy foreign bodies, thus promoting immune health. One product to check out that contains Wellmune is DNA Miracles Isotonix® Immune.**
Multivitamins*: Last but most definitely not least, as Dr. Mason says, multivitamins are a great foundation for supporting the immune system. Packed with 13 essential vitamins and minerals, DNA Miracles Isotonix Multivitamin is a great way to ensure you're covering all of the bases and making sure that your kids are getting the range of vitamins to support their health. From providing antioxidant protection to supporting optimal immune function, this multivitamin is one simple way to start with the basics in supporting your little one's immune health!**
What's interesting is that there are actually two categories of your immune system's response: adaptive immune response and innate immune response. Basically, your innate immune response is already intact when you're born and requires no "training," while your adaptive immune response does require training: It is functional at birth but has not had the experience it needs to become efficient.
*Always talk with your child's pediatrician first before adding any new vitamin or supplement to your child's daily routine.
**These statements have not been evaluated by the Food and Drug Administration. This product(s) is not intended to diagnose, treat, cure or prevent any disease.
Market America | SHOP.COM is a global product brokerage and internet marketing company that specializes in One-to-One Marketing and is the creator of the Shopping Annuity®.