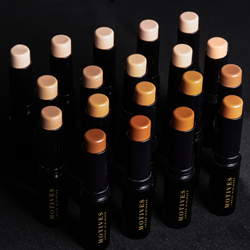 GREENSBORO, N.C. (PRWEB) October 05, 2020
Here's an unfortunately common scenario: You go into your local beauty store, looking for a foundation only to find that there are no more than ten shades, none of which match your skin tone or shade. Why is it that inclusivity and range within the beauty world is still a common issue? Well, we've got you covered! Market America | SHOP.COM knows a brand with a new way to use foundation for much more than, well, foundation with the new Motives® Flawless Face Stick Foundation, available in 19 shades. Let's break down why this clever and inclusive new line of foundation sticks knows what beauty lovers want in their beauty products.
1. With 19 shades in the collection, this new foundation lives up to its claim of offering an inclusive range of shades! From lighter shades like "Ivory Silk" to deeper shades like "Mocha" and "Espresso," the variety of the Flawless Face Stick Foundation represents a wide range of skin tones and shades. Not only that, but with an array of undertones to choose from, you can find a match that not only fits your shade, but also your complexion. With undertones such as neutral, warm, cool, yellow, olive, red, pink and more, these foundation sticks can match every skin tone.
2. Not only are they versatile in shade, but also function! With medium to full buildable coverage, you can use these foundation sticks to build whatever level of coverage you are comfortable with, and also use them to highlight and contour. Their stick shape allows for easy application for highlighting and contouring as opposed to traditional liquid foundations and not to mention, the range in shades allows you to find the perfect highlight and contour shades for your skin tone.
3. These must-have foundation sticks come in a Flawless Face Bundle! There are options for every skin tone range, so you can get the perfect contour, concealer, highlighter, and full-face foundation in one bundle. With five unique bundles available, you can get four full-size foundation sticks that can carry your complexion you from season to season. Plus, the bundle will save you over the price of an entire single stick!
4. Motives offers a "Find Your Flawless Match" online quiz so you can be sure to select the right shade for your needs. Even more, Motives suggests the following: Your ideal contour color should be around two shades darker than your natural skin tone. Likewise, your ideal concealer color should be no more than one to two shades lighter than your natural skin tone. For skin tone specific color selections, be sure to check out our Motives Flawless Face Bundles.
Whether you're a full glam babe or a natural glow gal, the versatility of the Motives Flawless Face Stick Foundation is a must-have in any makeup collection.
Market America | SHOP.COM is a global product brokerage and internet marketing company that specializes in one-to-one marketing and is the creator of The Shopping Annuity®.