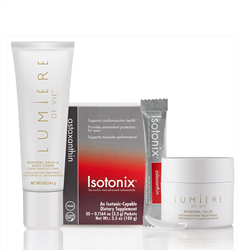 GREENSBORO, N.C. (PRWEB) October 30, 2020
For years we've heard about the importance of skincare: "Wash your face, use a serum, always moisturize your face and body, and never leave the house without sunscreen." But what if we told you that skincare doesn't have to only be about what we do on the surface? Market America | SHOP.COM is here to explore a powerful skincare ingredient that can be used orally or in topical form to support skin health from the inside and from the outside.
Let's start by breaking down the benefits that antioxidants can have on your skin! As we mentioned, the epidermis is our largest organ and it has a lot of jobs, one being protecting us from environmental factors such as oxidants. If we experience an increased amount of oxidants exceeding the capacity of our antioxidant defense system, this causes oxidative stress. And this is where antioxidants come in!
Astaxanthin is a super-antioxidant that has been shown through clinical studies to support healthy skin in women and men, with a combination of both oral supplementation and topical application. These studies only support astaxanthin specifically derived from H. pluvialis, but look no further because you — and your skin — are covered. Not only do we know of a great dietary supplement containing this unique type of astaxanthin, but there are two brand-new skincare products that include it as well!*
Isotonix® Astaxanthin is a unique combination of AstaReal®† astaxanthin, vitamin E, potassium and acerola fruit extract, making it one of the best antioxidant supplements available. It promotes healthy skin by improving moisture and helping to maintain elasticity and the epithelial structure and barrier function. It's also important that a supplement can be absorbed by your body and work efficiently; otherwise, how would you know that it can do its job? Thankfully, Isotonix Astaxanthin does both! "Isotonic," which means "same pressure," indicates a substance that bears the same chemical resemblance to the body's blood, plasma and tears. Isotonix Astaxanthin is isotonic and therefore readily available to enter the body and travel through the small intestine with minimum exposure to stomach acids that may degrade or limit nutrient concentration. This makes it efficient for nutrient delivery, and it comes in convenient packets that you can take with you on the go.*
Clearly, this is a great drinkable supplement, and now we're going to introduce two new products containing the same AstaReal astaxanthin that you can apply to your skin! Lumière de Vie® Renewal Gelée is a super-light hybrid between a gel and a cream that intensely moisturizes for refreshingly hydrated skin. It also smooths and evens the skin tone for a renewed complexion; helps reduce the appearance of fine lines, wrinkles and redness; and increases skin luminosity — all while providing advanced antioxidant protection! Because of its unique texture, it absorbs almost instantly into the skin, providing immediate hydration without any of the greasiness that comes with a cream. For best results, make sure to apply it morning and night.
Lastly, we all know it's important to moisturize the face, but we often forget that skincare can also apply to the rest of the body! This is where the brand-new Lumière de Vie Renewal Hand & Body Crème comes in. Also containing astaxanthin in topical form, this cream works to moisturize for well-hydrated skin. It's lightweight, fast-absorbing and is enriched with shea butter and hyaluronic acid, while also having a subtly sweet rose scent. Not only that, but it evens skin texture for improved skin luminosity and appearance.
Don't miss out on the chance to treat yourself, because we all deserve a little TLC! Make sure to check out the links above to pre-order these new must-have Lumière de Vie products as soon as they are available!
*These statements have not been evaluated by the Food and Drug Administration. This product(s) is not intended to diagnose, treat, cure or prevent any disease.
† AstaReal® is a registered trademark of Fuji Chemical Industries Co., Ltd.
Market America | SHOP.COM is a global product brokerage and internet marketing company that specializes in one-to-one marketing and is the creator of The Shopping Annuity®.