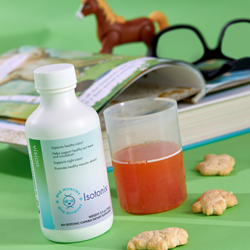 GREENSBORO, N.C. (PRWEB) October 02, 2020
According to the CDC, children ages eight to 10 spend an average of six hours per day in front of a screen, kids ages 11 to 14 spend an average of nine hours per day in front of a screen and youth ages 15 to 18 spend an average of seven-and-a-half hours per day in front of a screen – and that's just on average. These days, with virtual learning and digital communications at an all-time high, we all know "that kid" who seems to be connected to a device 24/7. As most know, screen time can be straining to the eyes. While reducing screen time and incorporating screen breaks into your kid's daily routine will help, we know it's not always easy. That's why Market America | SHOP.COM has found some help for your kids when it comes to eye strain – DNA Miracles Isotonix® Vision!* Before we discuss the best features of DNA Miracles Isotonix Vision, it's important to know that you should talk to your healthcare provider or pediatrician before introducing any new supplements into your child's routine.
1. DNA Miracles Isotonix Vision contains high-quality ingredients such as bilberry, carrot extract and the clinically studied FloraGLO® Lutein. Let's break down the purpose of each. Starting with bilberry extract, this component is derived from the leaves and berry-like fruit of a common European shrub closely related to the blueberry. The extracts of this fruit contain anthocyanins, which are powerful antioxidants. Carrot extract is also a key ingredient because as you have probably heard before, carrots support healthy vision. Last but not least in our key ingredient list is FloraGLO® Lutein. FloraGLO Lutein is the world's leading patented, purified lutein shown to support eye health.*
2. DNA Miracles Isotonix Vision uses a unique and efficient delivery system. Isotonic, which means "same pressure," bears the same chemical resemblance of the body's blood, plasma and tears. All fluids in the body have a certain concentration, referred to as osmotic pressure. The body's common osmotic pressure, which is isotonic, allows a consistent maintenance of the body's tissues. In order for a substance to be absorbed and used in the body's metabolism, it must be transported in an isotonic state. DNA Miracles Isotonix Vision is an isotonic solution, meaning that the body has less work to do in obtaining maximum absorption. The isotonic state of the suspension allows nutrients to pass directly into the small intestine and be rapidly absorbed into the bloodstream. With Isotonix products, little nutritive value is lost, making the absorption of nutrients highly efficient while delivering maximum results.
From supporting healthy vision, healthy eye tissue and circulation to supporting night vision, DNA Miracles Isotonix Vision is packed with benefits for your children!*
For the full line of DNA Miracles supplements, click here.
For the full line of Isotonix supplements, click here.
*These statements have not been evaluated by the Food and Drug Administration. This product is not intended to diagnose, treat, cure or prevent any disease.
Market America | SHOP.COM is a global product brokerage and internet marketing company that specializes in one-to-one marketing and is the creator of The Shopping Annuity®.